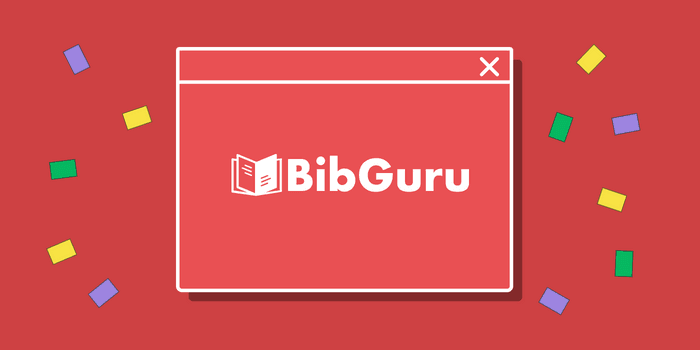 Today we have something different for you. We have created a new app called BibGuru, a simple and streamlined citation generator specifically designed for K-12 and undergraduate students.
If you are an instructor you should read on to learn how BibGuru can help your students. If you are a Paperpile user, you also should read on and learn how some of the innovations and improvements we made for BibGuru will come to Paperpile.
Meet BibGuru
8.6 million students have used BibGuru since its launch.
Working with students, we realized that full-fledged reference managers like Paperpile are often overkill for simple student essays. So we set out to solve this problem with a new app. Our goal with BibGuru was to create a student-friendly citation app that requires little to no training to use.
It helps students meet learning outcomes and addresses concerns that educators and librarians have about inaccurate, hard-to-use, and ad-filled citation generators.
We launched BibGuru more than a year ago. Since then, 8.6 million students have used it to generate their citations. 970,000 have used it in April 2022.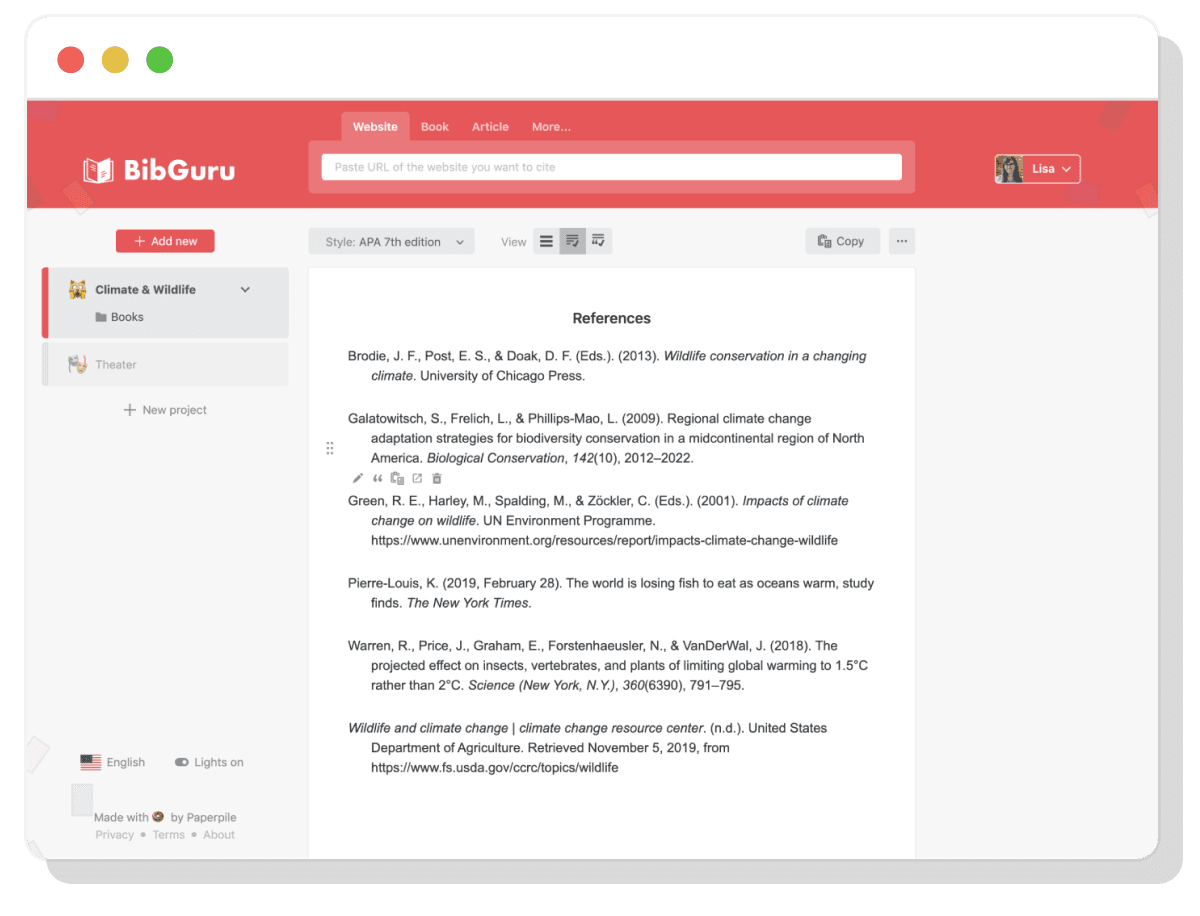 BibGuru is completely free (and ad-free).
It features a search bar that allows students to search for books, websites, and journal articles and add them directly to a bibliography.
Students can generate citations and references in MLA, APA, and thousands of other citation styles.
Students can create projects for individual assignments and use folders to organize sources based on assignment requirements, source type, or other details.
Citations and bibliographies can be exported as a Word file, copied and pasted to Google Docs, or exported as bibliographic data files (BibTeX or RIS) to use with other reference management apps.
BibGuru is available in several languages, including Spanish, German, and both Brazilian and European Portuguese.
BibGuru browser extension
Most recently, we developed a BibGuru browser extension for Google Chrome and Microsoft Edge. The extension automatically generates citations for websites and online articles.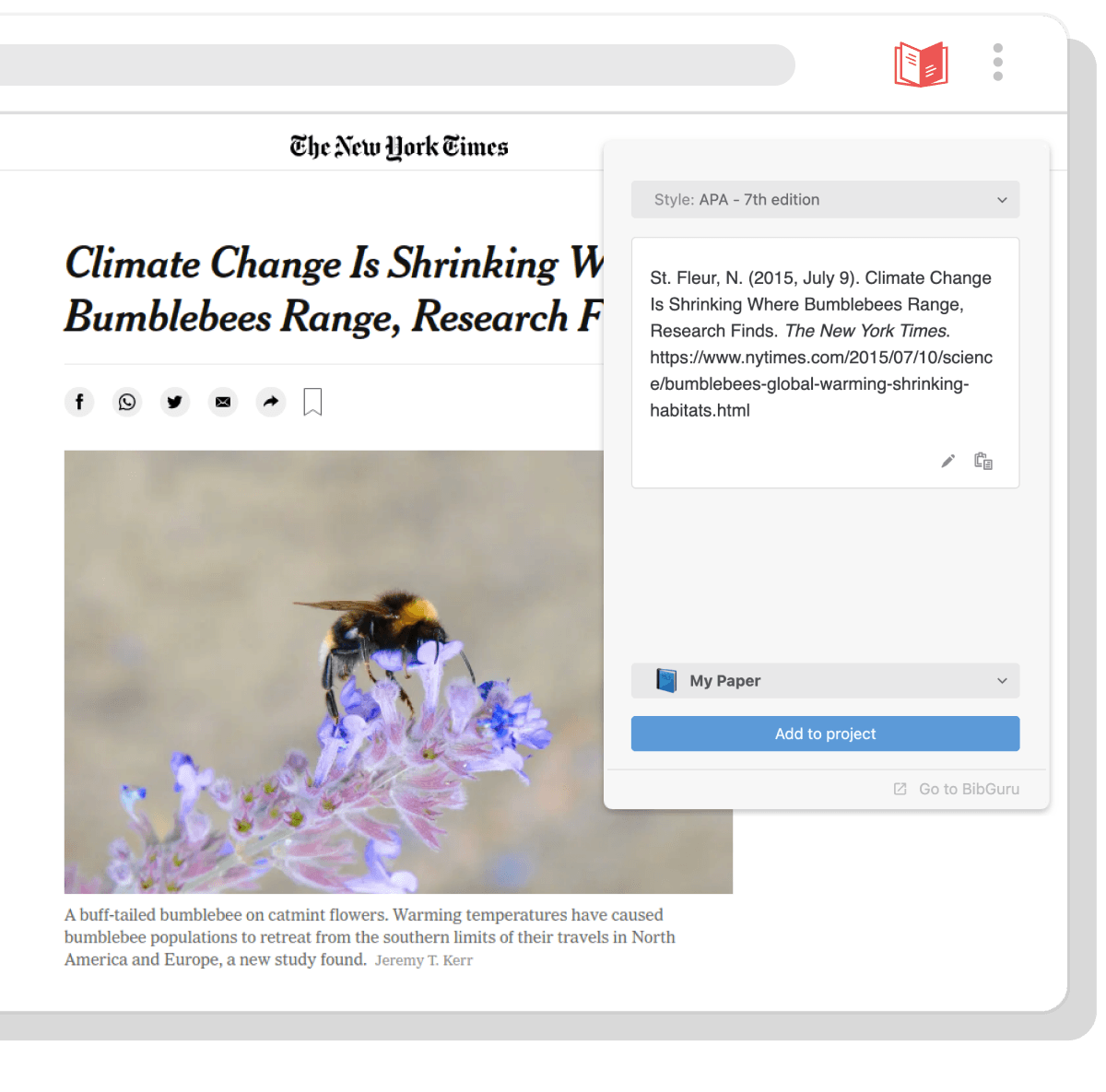 Students love BibGuru
We're proud of BibGuru's accuracy and student-friendliness, but don't just take it from us:






BibGuru's Educator Hub
The BibGuru website features an Educator Hub, with instructional materials on citation, academic writing, and plagiarism—including a comprehensive eBook on academic essay writing from idea to submission.
All of the materials are free. Instructors can download materials, remix them, and add them to their institution's LMS or LibGuides.
Educators can also find student-friendly content on the BibGuru blog.
Educator feedback
If you decide to adopt BibGuru in your classroom, let us know! We welcome feedback from instructors and librarians so that we can continue to improve BibGuru for students.
What's in it for Paperpile users?
A lot. Reference and citation management software is the core of our business. We want to build reference and citation software for everyone, so improving our offering for the specific needs of students is something we truly care about.
BibGuru and Paperpile share many components and Paperpile will benefit from our work on BibGuru (and vice versa):
We have developed a fast and extensive new database of 90 million articles that powers the real-time search in BibGuru. This database is already used in Paperpile's Word plugin and Paperpile's mobile apps and will be included in our web app later this year.
The database also contains 30 million books. We have developed new algorithms to collect and clean book data from open and commercial sources. This is an ongoing process, but citing books in Paperpile should get much faster and accurate going forward.
We have improved citation accuracy. Students care about correct citations because their grades may depend on it. But, of course, every Paperpile user will also benefit from more accurate citations. For example, updated algorithms to collect metadata from websites have improved website citations considerably. These updates will also land in Paperpile this year.
We used BibGuru as a playing ground for trying out new technologies. For example, we will release a completely revamped browser extension experience for Paperpile later this year (including for Safari 😏). Trying new things in BibGuru, we have learned how to push the boundaries of what's possible in a browser extension.