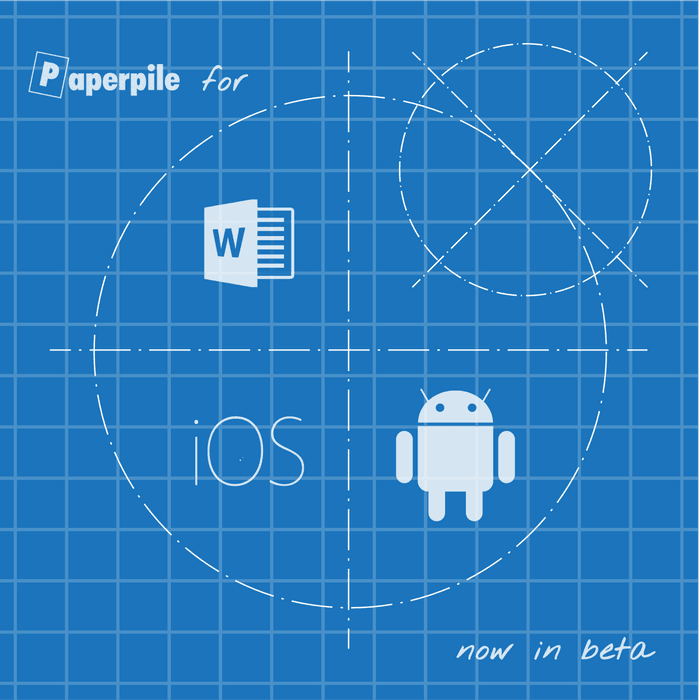 Many of our users have been waiting for mobile Apps and a Word plugin for quite some time now. Not a day passes by without a friendly reminder in our inbox "Where's my Paperpile iOS App!". We're more than happy to be reminded, because with 2.2 million apps available for download, it's reassuring to know that people are still waiting and lobbying for just one more.
I'll keep it short: We're getting ready for private betas for our Android App, iOS App and our Word plugin for Windows and Mac.
You can sign up here today:
Sign up for private beta for Word
Sign up for private beta for mobile (Android and iOS)
For more details on the beta program and the upcoming new products read on.
Paperpile for Word
We set out with the goal to make Google Docs a first class platform for academic writing. With constant updates and improvements (like here, here and here) we think we have come close. And of course we will continue to improve Google Docs integration going forward.
This strategy paid off. In relatively short time, we built an enthusiastic customer base who love Paperpile and everything Google.
But does this mean we don't like Word or don't care about users who use Word? Not at all. We just had to start somewhere.
Word 365 and Word for Mac 2016 added key collaborative features. A solid collaborative citation workflow is more relevant than ever.
Word support has been on our roadmap from day one and it's been priority for this year for two reasons: (i) as Paperpile keeps getting more mainstream, more and more users come from a Word background (more than 80% of Paperpile customers are switching from Mendeley and EndNote). (ii) Office 365 and Mac Office 2016 added key collaborative features. A solid collaborative citation workflow is more relevant than ever (and let's face it, EndNote does not scale well beyond 1 user).
We set the bar for ourselves very high. Our goal is not to provide a "me too" Word plugin years after the competition. Instead we want to condense everything we have learned over the past years and also innovate with this product.
We'll start inviting the first users to our Word private beta later in October. If you want to be part of it sign up now.
Paperpile Mobile
Why is there no mobile App? That turned out to be one of the toughest question to address on our forum and in our support inbox.
The simple answer is: it's hard to build a mobile App. More precisely, it's hard to build a good mobile app.
It's hard to build good mobile apps. We want our apps to meet the high standards set by thousands of popular consumer apps on iOS and Android.
We tried to provide the best possible experience for our web app. So having a bad or just mediocre experience on mobile would only disappoint our users. That's why a mobile web-app was never an option.
Instead, our long term plan is to provide native applications for iOS and Android that meet the high standards set by thousands of popular consumer apps on these platforms.
However, that also means we need to build Paperpile from scratch for two different operating systems. That takes time and resources and it's a big challenge for a small company like Paperpile. So we are very happy to be so close to the first private beta.
So what's first, Android or iOS? We asked ourselves that question 18 months ago. We concluded there is no good answer to it. In either case there would be disappointed customers asking us why we chose one over the other.
So instead of creating a 100% feature complete App first for iOS or Android we plan to ship a core version with 80% of the most important features for iOS and Android.
We encourage everyone to sign up for the private beta. The more feedback we get and the faster we can overcome initial technical problems on various devices, the faster we can provide the apps to the whole Paperpile community.