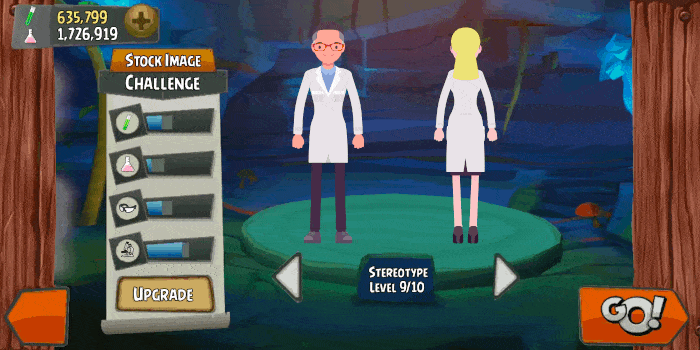 We've worked for quite some time on this post (it takes time to make scientists spin in 3D …). So we were indeed surprised as we saw the very same topic trending on Twitter under hashtag #BadStockPhotosOfMyJob right before we hit the "publish" button on this post.
Is this a sign? In any case, it seems it's finally time to discuss how ridiculous stock images of scientists are.
However, what prompted us to research this topic is not that stock image sites are full of weird images of scientists. A more serious angle is the following question: Why are so many reputable publications actually using those images reinforcing bizarre stereotypes about their own audience and community?
We hope after reading this post, that will be a thing of the past.
The scientist stock image checklist
We've looked at many images and compiled a checklist to spot the typical stock image scientist. Those images are surprisingly similar and we would estimate that 80-90% can be identified by three or more of the following characteristics (ordered by prevalence):
Lab coat
Colored liquids
Microscopes
Awkward collaboration, communication, or excitement
Overdressed and model look
Staged diversity of race, gender and age (old = young model with gray hair)
Found on a site near you
Why do reputable publications use those images and mock their audience with bizarre stereotypes?
As long as these images are hidden on stock-images sites, watermarked behind a paywall, it's all fun and games. But why do content creators decide to buy these images?
Here are only few examples we found on various sites talking about topics involving scientists.
Our best guess is that editors and writers consider those images as mere decoration and not part of the content. They probably don't even pay attention what these images actually show.
We added some annotations to the images, which makes it impossible to ignore the absurdity of these scenes.
Found on Inside Higher Ed, a publication we read regularly for its content on university and college topics. It has a 1.8 million monthly unique site visitors. It gets 5/6 points (they forgot the microscopes…)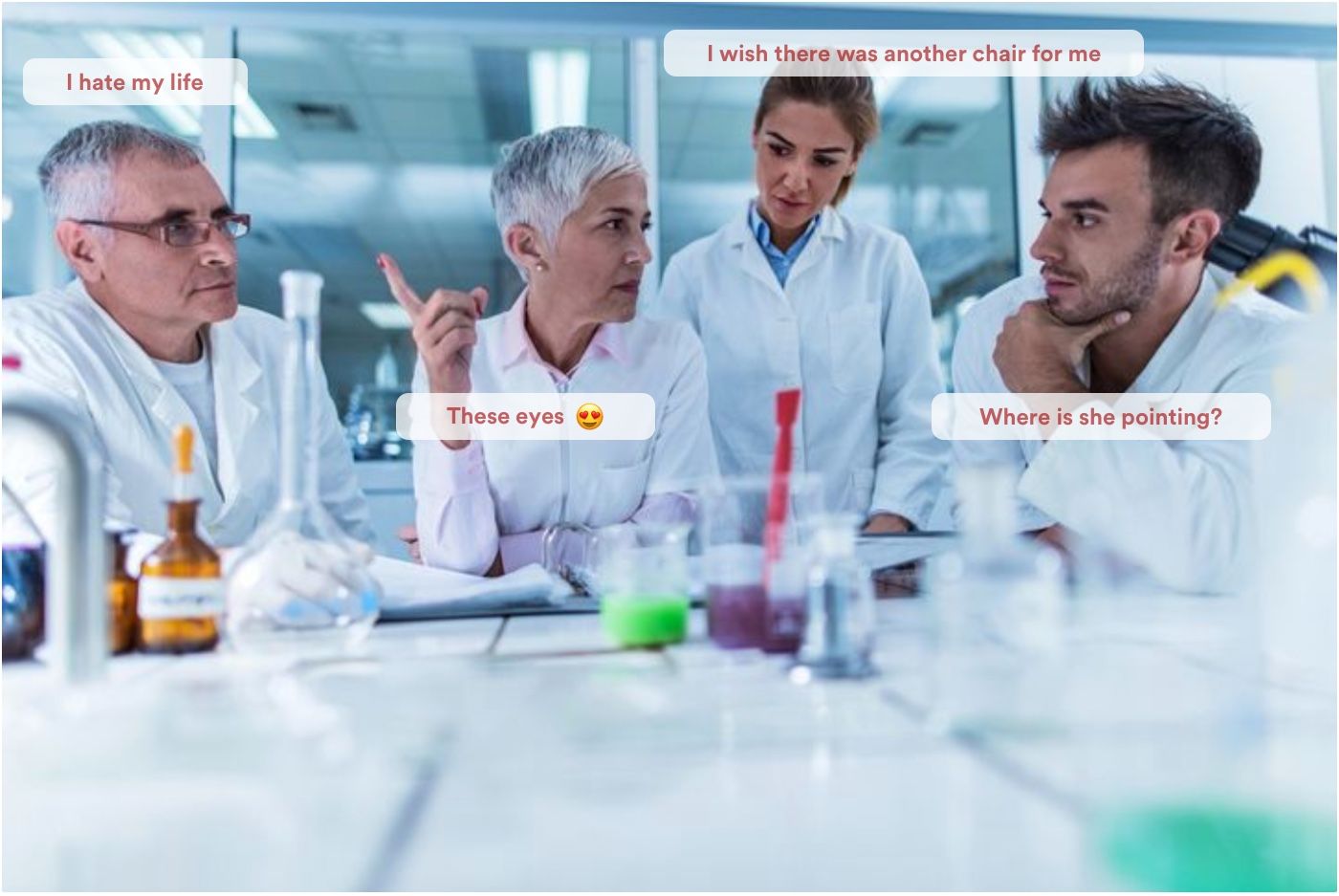 This image seems to be popular and has been used among others by the Huffington Post, The Florida Health Department and the Philadelphia magazine.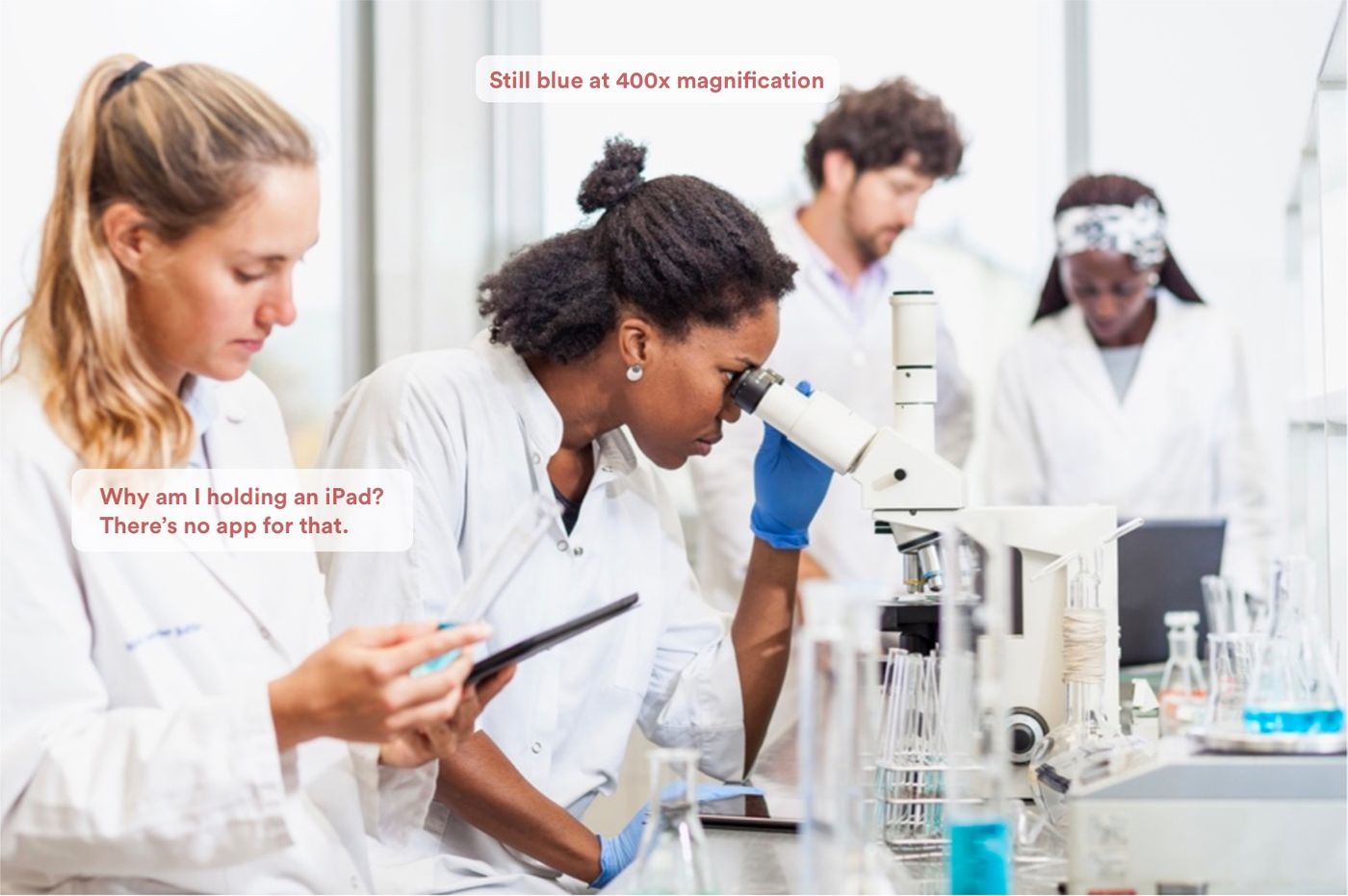 The European Commission scores a straight 6/6 with this image.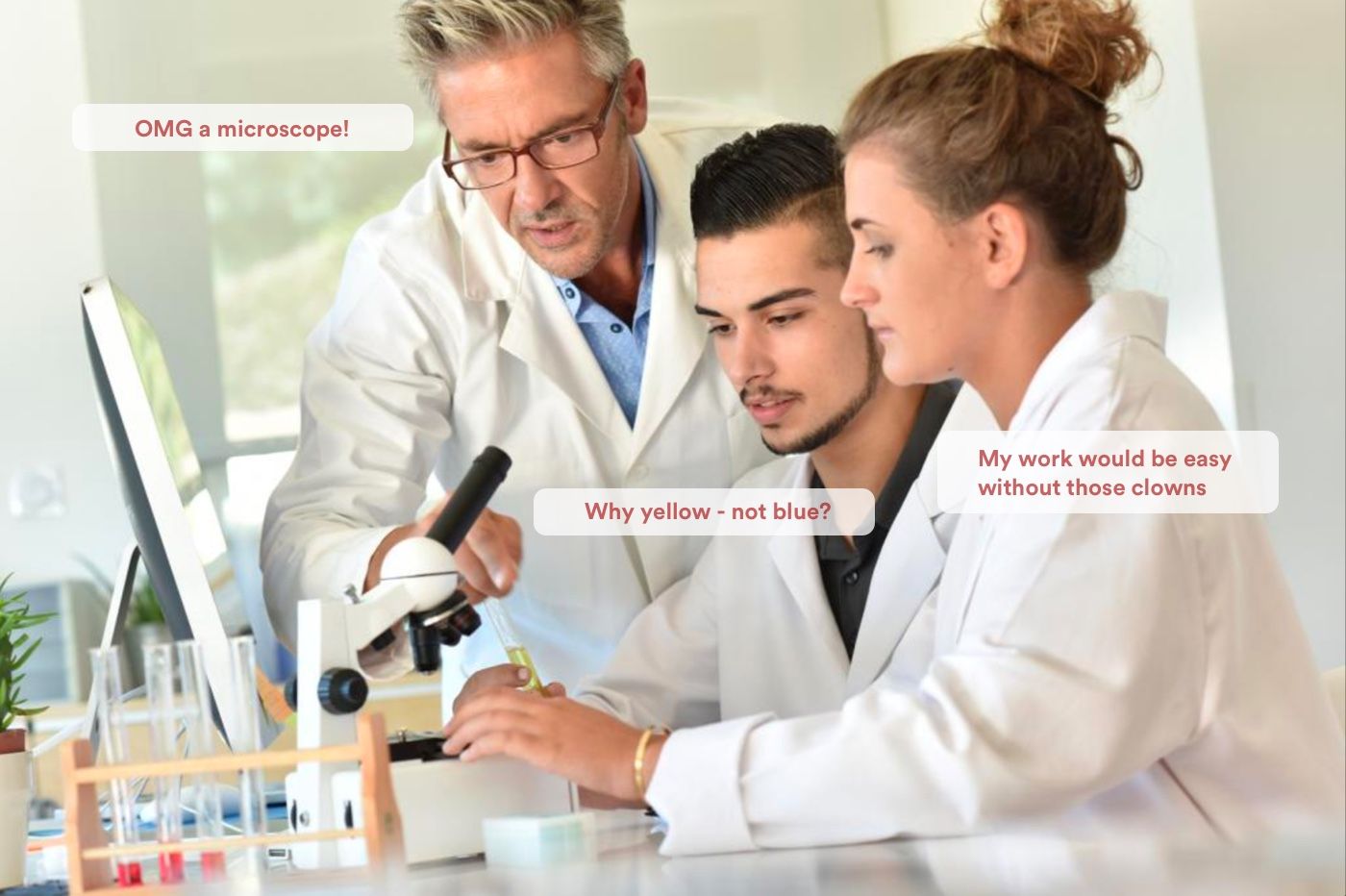 The Mendeley Blog seems to be a regular at stock image sites. We had so many articles to choose from in terms of weird scientist stock images, that we decided to share more than just one example from here: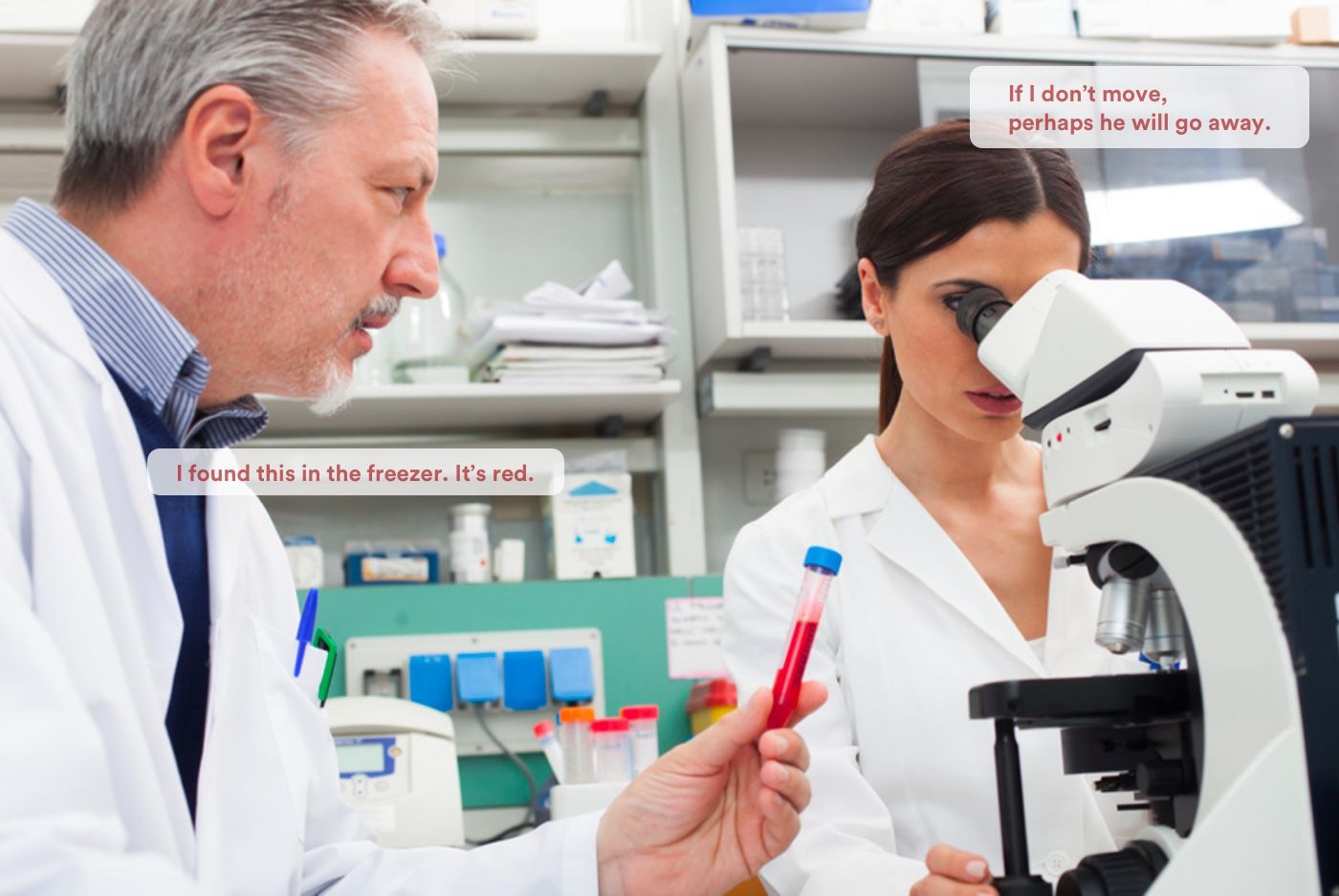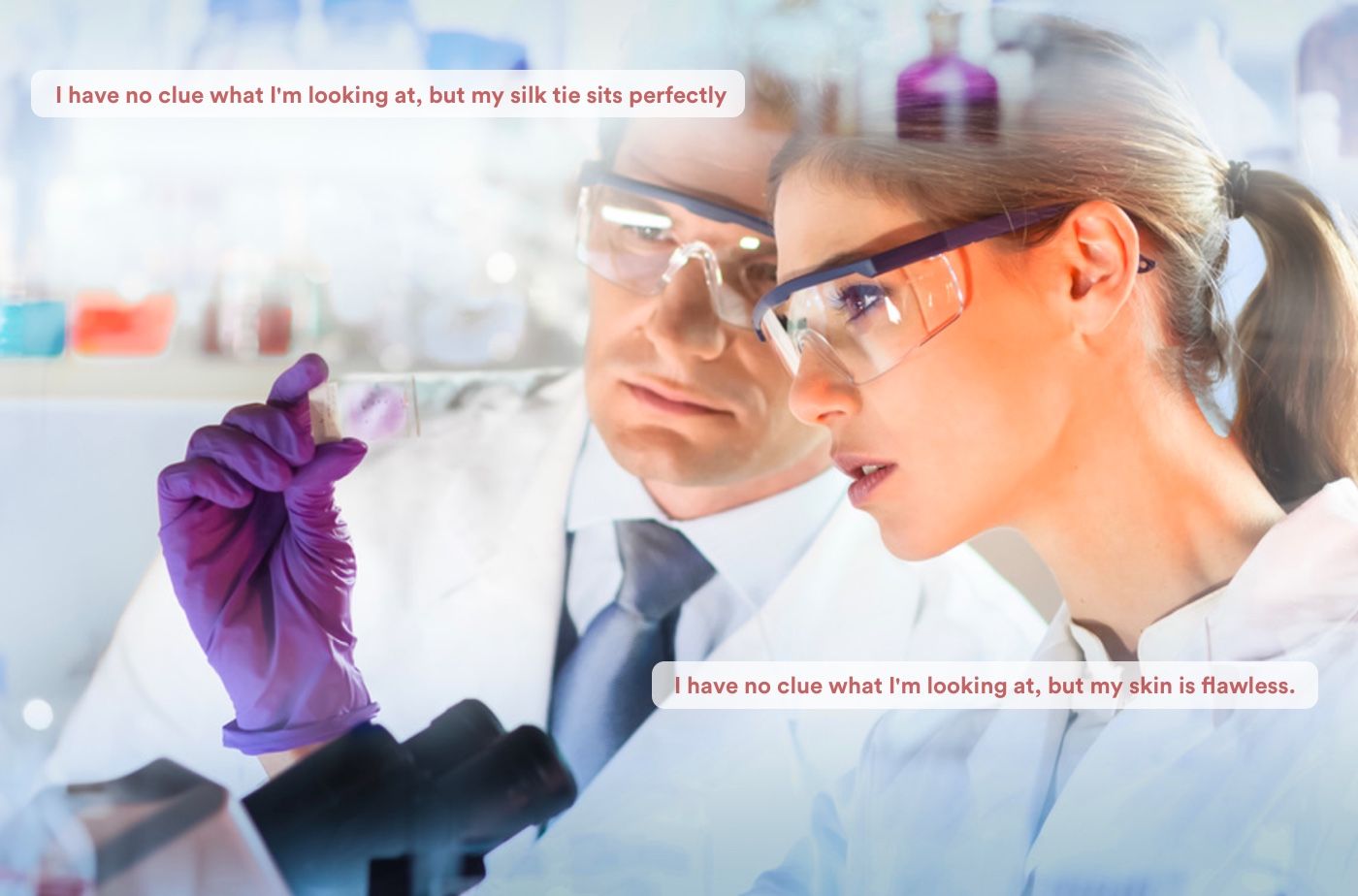 Why images matter
It's not our intention to shame others by showing those images (not even in the case of Elsevier's Mendeley blog 😇).
Test subjects remember 20% of what they read but 80% what they see and do.
One reason why we point out this issue is a very practical one. We've come across great stuff on the web we wanted to share but decided not to because it would pull those images in our Twitter feed. We do not want to mock our audience (or ourselves — our co-founders Stefan and Andreas are both scientists).
A study by HP shows that people remember only 10% of what they hear and 20% of what they read. But they remember 80% of what they see and do. Marcel Just, director of the Center for Cognitive Brain Imaging at Carnegie Mellon University, said in a Nieman Reports interview:
"Processing print isn't something the human brain was built for. The printed word is a human artifact. […] By contrast Mother Nature has built into our brain our ability to see the visual world and interpret it."
This shows what an important role images play in delivering our message. Nevertheless, they often seem to play just a secondary role for those producing content. After a text is written, a short Google search seems to be the way to go to find an appropriate image for the article.
How to fix it?
A simple test could probably eliminate the vast majority of bad stock images from the web: Imagine instead of your whole article you are allowed to publish only one sentence and the image. Would you still use the same image?
The goal should be to strengthen the message of your content and create a more authentic image of scientists in your publication and in the mind of your audience.
These days it's not even that hard to produce appealing images. We would dare to say that pictures taken by the editors themselves, with a standard camera or even their phone and a little bit of creativity would beat any stock image.
Ask a real scientist if you can take a picture of them within their working environment. Chances are they don't say "no" and you'll be astonished and realize that a real-life-scientist looks nothing like our stock image friends.
Addendum
The stock images on this page cost us $85.6
In case you were wondering: Yes, we bought the rights for those stock images we have shown here (except one we could not find for sale).
It cost us $85.6. That hurts for at least two reasons: (i) the irony that we encourage producing more of those by buying them and (ii) it might even hurt our blog or at least this post because also Google is aware that low quality stock images re-used on many sites correlate with low quality content.