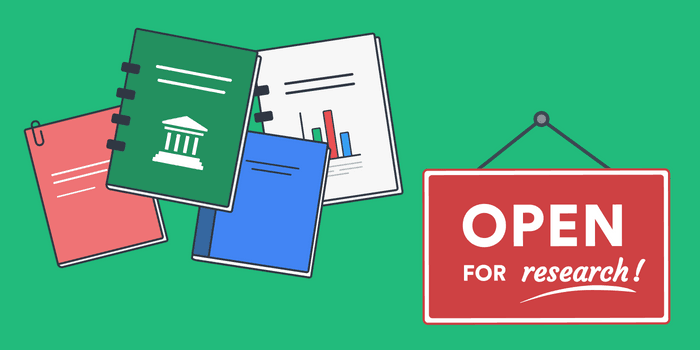 In times of a global pandemic, when the world is fighting a common threat against the clock, cooperation in the scientific community is more important than ever. At some point in the (hopefully) near future, we will have medications and vaccines to combat the virus. And this will be thanks to thousands of scientists working tirelessly around the clock to find a cure.
To help them with their strenuous task, more and more publishers and academic databases have decided to make the research related to COVID-19 freely available to anyone. Some go even further and are making their entire database freely available for a limited period of time.
Publishers recognize their role in the crisis and make COVID-19 content open access
Removing all obstacles to getting access to all information available on COVID-19 is the obvious and right thing to do in this situation. All publishers who recognized their important role in this crisis and reacted immediately deserve credit.
We have put together a list of more than 30 free resources during the pandemic, and we'll update the list on a regular basis. Feel free to leave a comment if you would like us to add a source to the list.
We leave the obvious follow-up question for later: If open access is critical in times of crisis, why is closed access and paywalls the better approach when researchers are fighting everyday crises like cancer, Alzheimer's disease, or climate change?
Name
Coverage
Valid until
ACM
Computer Science
Whole database (~ 4 Mio)
June 30, 2020
https://www.acm.org/articles/bulletins/2020/march/dl-access-during-covid-19
ACS
various
Collection of articles on Coronavirus research
https://pubs.acs.org/page/vi/chemistry_coronavirus_research?utm_source=pubs_content_marketing&utm_medium=email&utm_campaign=0320_MFH_PUBS_0320_MFH_CoronavirusSecondEmail&ref=pubs_content_marketing#
AIP
Physics
Collection of articles on infectious diseases, epidemics, computational epidemiology, and pandemics
March 31, 2021
https://publishing.aip.org/publications/journals/covid-19/
BMJ
Medical
Coronavirus hub with articles and resources on COVID-10 freely available
https://www.bmj.com/coronavirus
Brill
various
Books and articles on topics such as public health, distance learning, crisis research
https://www2.brill.com/COVID-19_Collection
Cambridge University Press
various
Free access collection (currently 246 articles on April 14)
https://www.cambridge.org/core/browse-subjects/medicine/coronavirus-free-access-collection
Cell Press
Biomedical
Hub page with content about the outbreak as it appears in Cell Press journals
https://www.cell.com/2019-nCOV
Clarivate
Analytics
Collection of resources around the Coronavirus
https://clarivate.com/coronavirus-resources-contact-us/
Cochrane Library
Medical Research
Special Collections, reviews, prioritized updates, COVID-19 Study Register, and other resources
https://www.cochranelibrary.com/covid-19
Dimensions
Research Grants Database
All relevant content on COVID-19 on the Dimensions platform is freely available and can be downloaded. As of April 14 more than 12,000 publications, clinical trials and policy documents
https://app.dimensions.ai/discover/publication?search_text=%222019-nCoV%22%20OR%20%22COVID-19%22%20OR%20%E2%80%9CSARS-CoV-2%E2%80%9D%20OR%20%22HCoV-2019%22%20OR%20%22hcov%22%20OR%20%22NCOVID-19%22%20OR%20%20%22severe%20acute%20respiratory%20syndrome%20coronavirus%202%22%20OR%20%22severe%20acute%20respiratory%20syndrome%20corona%20virus%202%22%20OR%20((%22coronavirus%22%20%20OR%20%22corona%20virus%22)%20AND%20(Wuhan%20OR%20China%20OR%20novel))&search_type=kws&search_field=full_search&and_facet_year=2020
Duke University Press
various
Selection of books to be read for free online until June 2020, journal articles free until October 2020
June 1, 2020
https://www.dukeupress.edu/Explore-Subjects/Syllabi/Navigating-Pandemic-Syllabus
Elsevier
Analytics
Free Coronavirus information center including guidelines for clinicians and patients, ~ 20,000 related articles free to access on ScienceDirect
https://www.elsevier.com/connect/coronavirus-initiatives
Emerald
various
Expert briefings, journal articles, and book chapters related to Coronavirus and the management of epidemics
December 31, 2020
https://www.emeraldgrouppublishing.com/promo/coronavirus.htm
Guilford
Medical and Psychological Research
Whole database
June 30, 2020
https://guilfordjournals.com/
IEEE
Computer Science, Electrical Engineering, Electronics
A collection of COVID-19 related articles is completely free to access for the duration of the crisis
https://ieeexplore.ieee.org/search/searchresult.jsp?newsearch=true&queryText=%22Custom%20Search%22:COVID-19
IOP Publishing
Physics
All relevant published and forthcoming articles in their journals will be made immediately available to PubMed Central (PMC) throughout the duration of the crisis
https://ioppublishing.org/news/coronavirus-articles-free-to-access-content-from-iop-publishing/
JAMA
Biomedicine
COVID-19 collection with interviews, videos and interactive map
https://jamanetwork.com/journals/jama/pages/coronavirus-alert
Johns Hopkins
Private Research University
News and information to help advance the understanding of the virus, inform the public, and brief policymakers
https://coronavirus.jhu.edu/
JSTOR
various
Expanded free access for participating institutions & selected journal articles related to COVID-19 free for everyone
June 30, 2020
https://about.jstor.org/covid19/?utm_source=jstor&utm_medium=display&utm_campaign=dsp_jstor_home_right_covid19_03_2020
McGraw-Hill Medical
various
24+ entries on AccessMedicine COVID-19 Central to help teaching and learning online and to share the latest information on the COVID-19 global pandemic
https://www.accessmedicinenetwork.com/channels/2610?utm_source=marketo&utm_medium=email&utm_campaign=pp_global-rn-med-all-covid-19&mkt_tok=eyJpIjoiWVRVNU56UTVZalF4TWpjdyIsInQiOiI5ZGJXbm42aENiUWpmNmc2a0xcLzE2TG9mSkFSQ1YyOTVTQmdOUnczQ1ViNjMwb3lrZHBJaXh0RGxZUG84U2NLT3RaeHNyQ3BHNnVDc1VYSG9EZ2JTRlZBWjNjUUhndjNqdTFidXgzN3FNVzg3elR1U3daTmdCZitNc0pnR1BUYUYifQ%3D%3D
Microbiology Society
Microbiology
All journal content
https://www.microbiologyresearch.org/
MIT Press
various
Selected free articles on pandemics, epidemiology, and other relevant subjects
https://mitpress.mit.edu/blog/articles-understanding-pandemics-and-epidemiology
Muse
Digital Humanities, Social Science
COVID-19 related scholarly content
https://about.muse.jhu.edu/resources/freeresourcescovid19/
Ovid
Biomedicine
Free access to Ovid Discovery
https://coronavirus.ovidds.com/discover
Oxford University Press
various
Free access to OUP resources on Coronavirus and related topics
https://academic.oup.com/journals/pages/coronavirus?cc=us&lang=en&
SAGE
various
150+ articles spanning science, technology, and medicine and in the social and behavioral sciences
https://journals.sagepub.com/coronavirus
Semantic Scholar
Search Engine for Scientific Journal Articles
Free COVID-19 Open Research Dataset, a free resource of over 51,000 scholarly articles, including over 40,000 with full text, about COVID-19 and the Coronavirus family of viruses
https://pages.semanticscholar.org/coronavirus-research
Springer Nature
various
Free to access journal articles, books and additional commentary on the Coronavirus
https://www.springernature.com/gp/researchers/campaigns/coronavirus
The Lancet
Medical
COVID-19 resource center with free content from across the Lancet journals as it is published
https://www.thelancet.com/coronavirus
The New England Journal of Medicine
Medical
A collection of articles and other resources on the Coronavirus outbreak, including clinical reports, management guidelines, and commentary
https://www.nejm.org/coronavirus
Wellcome
Research Charity, Biomedical
All of their COVID-19 and Coronavirus-related research and publications are freely available
https://wellcome.ac.uk/coronavirus-covid-19/open-data
Wiley
various
More than 5,300 Coronavirus-related articles and book chapters
https://novel-coronavirus.onlinelibrary.wiley.com/