Troubleshooting
Chrome Extension
The Chrome extension is required to run Paperpile. Installation and update of the Chrome extension is fast and simple and requires minimal interaction on your part. Here are some tips when you run into problems. More general information on how to manage extensions can be found here.
Installing the Chrome extension
Paperpile will ask you to install the extension the first time you use Paperpile on a computer.
Click "Install extension" and you will be sent to the Chrome Webstore.
In the Webstore, click the blue "Add to Chrome" button to install the extension.
Privacy
The Paperpile extension requires permission to interact with your browser tabs and pages.
These permissions are standard for popular extensions with millions of users such as Evernote, Adblock Plus or Gmail.
Paperpile only interacts with tabs showing academic references. Your browsing history or any other personal information remains private to you and will never be sent to our servers.
Required Chrome version
Paperpile currently requires Chrome or Chromium version 27 or higher. The Chrome browser usually auto-updates regularly, so no maintenance is required to ensure you have the latest version. However, some systems (especially Linux-based systems using the Chromium variant) may be out-of-date. If this is the case and the Paperpile extension cannot be installed, try updating your Chrome / Chromium installation.
Enable/Disable/Restart the Chrome extension
You should make sure that the Paperpile Chrome extension is always enabled. To verify this, go to More Tools > Extensions in the Chrome menu

. In the extensions tab, find Paperpile in the list and check that it is "Enabled".

If Paperpile shows a message "Lost contact with Chrome extension" or Paperpile is behaving strangely in some other way, reloading the extension might help. Go to the extension tab and disable and then re-enable the extension. Alternatively, restart Chrome, which will restart all extensions.
Updating the Chrome extension
Chrome will automatically update your extension in the background. Sometimes if Chrome has not updated the extension yet, you will see an update window in Paperpile. Similar to the install process described above, click "Update Extension" to automatically download and update the extension. If the update fails, you can manually update the extension by going to More Tools > Extensions in the Chrome menu

. In the extension tab, activate "Developer mode" and click "Update extensions now".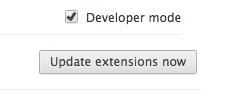 File Uploads
When you upload a file, Paperpile stores a temporary copy of the file within your browser while scanning it and importing references. PDFs are then permanently stored within your browser's controlled storage for easy access.

This file access requires certain access permissions from Chrome; you may have trouble uploading files if you configured Chrome with heightened security or privacy settings. Here are some tips on what to do.
Filesystem Access
Certain Chrome privacy settings may cause Paperpile to be denied access to Chrome's internal filesystem, which is needed to store temporary files during uploads. There are two ways to resolve this issue, depending on your privacy needs.
Option 1 (Preferred): Allow third-party cookies and site data
Open Chrome's settings tab by clicking the Chrome menu and choosing
In the search field on top enter "Content Settings", and click on the corresponding entry in the search results. Next, click on "Cookies".
Make sure that "Allow sites to save and read cookie data" is enabled and that "Block third-party cookies" is disabled.
Refresh Paperpile and start uploading your files.
Option 2: Add security exceptions for Paperpile
If you prefer to continue blocking other third-party cookies and site data, you can add two exceptions to your Cookies that will specifically allow Paperpile to access the filesystem as normal.
Open the Chrome Cookies settings (follow steps 1 and 2 above).
Under the Allow header add exceptions for the following two sites:

[*.]paperpile.com/
chrome-extension://bomfdkbfpdhijjbeoicnfhjbdhncfhig/

Refresh Paperpile and start uploading your files.
If neither of these options resolves your issue
Please check the following:
Is your computer low on disk space?
Have you tried refreshing the Paperpile tab?
Have you tried reloading the Chrome extension?
Sometimes the problem can occur even when you already had set the correct settings. In that case, it may help to set/unset the settings again and restart Chrome.
If the issue persists, don't hesitate to contact Paperpile Support.
Supported Filetypes
If you try to import a file with a filetype not supported by Paperpile, it will not be included in the upload. A warning will be shown whenever an unsupported file is encountered.
Paperpile can import references from the following file types:
BibTeX (.bib)
RIS (.ris or .txt)
PDF (.pdf)
If you are trying to upload a BibTeX or RIS file that does not have a file extension, please rename the file with an appropriate extension to allow it to be recognized (e.g. rename "MyLibrary" to "MyLibrary.ris").
Note: although Paperpile only supports certain filetypes for import, you can attach any type of file to a paper in your library. Click the attachments tab, then choose "Attach supplementary PDF or other files" and browse for the file to attach.
Google Docs Plug-in
Paperpile uses a service called Google Apps Script to format citations within your documents. Most problems with Apps Script are easily resolved, but like any cloud-based service, Apps Script can suffer occasional outages. Here are some tips for what to do when something has gone wrong.
Installation
The Google Docs plug-in requires no special installation — if you have installed the Chrome extension and are logged into Paperpile, the plug-in will load automatically when you open a Google Doc. To verify this, look for the "Paperpile" menu and the "P" button on the right of the toolbar.
If the plug-in is not loading: make sure you are logged into Paperpile by visiting paperpile.com, then reload the Google Docs tab. If the plug-in is still not loading, try reloading the Chrome extension (instructions are here).
If you wish to disable the Docs plug-in at any point, you can access this setting from the Paperpile settings panel: Settings > Browser Integration.
Authorization
The first time you format a Google Document, the Paperpile plug-in must be authorized. This allows the Paperpile plug-in to scan and modify your document with the same permissions as you do. Note that Paperpile will only process your document when explicitly triggered to do so.
When you click "Authorize plug-in", a window will pop up indicating that the script requires authorization.

Click Continue and a second window will show, listing the permissions to be granted to the Paperpile plug-in: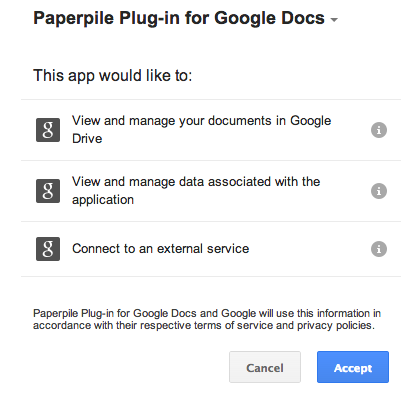 Click Accept and the windows should close automatically, allowing you to continue formatting your document.
In rare cases, an issue with the Apps Script service has caused this authentication to fail, yielding a message "The script has been denied access to your data." even when a user clicks Accept:

This authorization error is usually temporary, possibly caused by an outage in the Apps Script system. Please try again in an hour, or contact support if the issue persists.
Google Accounts
The Google Docs plugin can only be run when using Google Docs with your Paperpile-linked Google Account. Look at the upper-right corner of both the Paperpile and Google Docs browser tabs. If the email address shown in each tab is the same, then the Paperpile plug-in should work correctly.
Your email should be the same in Paperpile (left) and Google Docs (right)
Multiple accounts: The Paperpile plugin might not work correctly if you are using Google Docs (or other Google services) simultaneously with multiple Google accounts across different tabs. In that case, sign out completely from all Google Docs tabs and sign-in again only with your Paperpile-linked Google account.
Shared documents: Sometimes it can take up to 15 minutes for changes in the sharing status of a document to propagate to the Paperpile Docs plug-in. If a document was recently shared with you and you are seeing an "authorization" error when formatting citations, wait a while and try again before contacting support.
Unconverted Word files
Google Docs now allows you to edit Microsoft Word (.DOCX) files directly in Google Docs. At the moment, however, it is not technically possible for Paperpile to format your bibliography directly in such an unconverted .DOCX file. To fix, convert your document with "File > Save as Google Docs".
Formatting Problems
If an error occurs when formatting your document, Paperpile will display a list of messages indicating what went wrong. Here is a summary of known errors and potential solutions:
The Paperpile server took too long to respond.

The Paperpile server takes your citation data and turns it into foramtted textual citations and a biliography, which usually takes just a few seconds. This message is shown when that network request takes longer than 30 seconds or fails entirely. The entire Paperpile server may be down or experiencing heavy load, or a temporary network glitch may cause the issue.

Try formatting your document again. If the problem persists, visit @paperpile on Twitter for the latest status updates or contact support.

The document was modified during processing.

Since Google Docs allows real-time collaboration, a document being written by several coauthors may be changing rapidly. If citations are added or removed while you are formatting a document, the plug-in may detect an inconsistent state and fail to continue.

Try formatting your document again once the active editing of citations has slowed.

There was an error styling the text for one of your citations.

In rare circumstances, Paperpile will fail to correctly set the style (e.g., italics, bold) for an inline citation. This may happen when a citation is at the very end of a paragraph.

Try re-formatting your document; often these isolated errors go away after re-running the processor. If the problem persists, try adding or removing some text before or after the problematic citation and re-format again.

An error occurred when loading one or more of your citations.

If something makes it impossible for Paperpile to find your citations in its database (e.g. a broken identifier in your document, or an unexpected database failure) you may see this message, along with the text "[Citation error]" somewhere in your document.

The best solution here is to remove the "[Citation error]" text, re-insert the original citation, and re-format your document.

An unexpected / Google Apps Script error occurred

The actual modification of your document is done via Google Apps Script, a programming environment for Google Docs. Since Apps Script is an evolving product, unexpected issues may arise that were not accounted for by the Paperpile developers. If you see this message, they have already been notified of this error and may get in touch with you for more details.

You can try reformatting your document to see if the error is not repeated.
Library Import
Paperpile supports one-click import of your library from your Mendeley or Zotero library if it has been synced to the web. This feature has been tested to work with large and complex libraries, but unexpected errors may sometimes occur.
If the library import fails, you may see one of the following error messages:
Too many duplicates were encountered during import

This message will occur if you attempt to import a web library with many papers that are identical to items already in your library. Most likely, your web library has already been imported, in which case you should delete your existing imported folder before re-trying the import. (Note: Paperpile does not sync papers with Mendeley or Zotero — library import should only be run once!)

An unexpected error occurred

This message may be shown if the Zotero or Mendeley web service is unavailable, or if an unrecoverable error occurred while downloading data from their external servers. Wait a few minutes before trying again, and if the error persists please contact Paperpile support.
Opening File Attachments
When you click to view a PDF in Paperpile, the actual file may be located on your computer, synced to your Google Drive account, or on another user's Google Drive space.

Occasionally, you may run into trouble when attempting to open a PDF file from your computer or online. Below are some of the most common causes and solutions for errors opening attachments.
PDF downloaded from a different computer and not synced to Google Drive

When Paperpile first downloads a PDF it is stored on your computer's hard drive. In most cases, the file is then automatically synced to Google Drive, at which point it becomes accessible from any of your other machines. If you share this paper with collaborators, they can only access the PDF once it has synced to Google Drive.

Very occasionally the Drive sync process won't complete. This may be due to a network problems or browser shutdown, and will leave some files unsynced. If you then attempt to open these files from another computer, you may see an error message:

Solution: Usually the easiest solution is to return to the computer from which you downloaded the files and start a new sync to Google Drive. Click the Drive icon in the upper-right part of the screen and select "Start Sync Now". The sync should begin running and complete within a few minutes.

The file is larger than 20 MB. Currently Paperpile only syncs files smaller than 20 MB. All other files are only stored locally on the computer where you imported it. We will add syncing of files of arbitrary size in the future.
If the problematic file(s) won't load from any of your machines: There is a chance that the browser-based filesystem where Paperpile initially stores PDFs was cleared or ran out of disk space. Check your machine for low disk space, ensure that no other software is affecting Chrome's built-in storage space, and contact Paperpile Support if you need further assistance.
If a file cannot be recovered: As a last resort, you can remove a "missing" file from your Paperpile library in order to re-download or re-upload the article PDF. First, click the "Paperclip" icon to view the attachment for a given item, then click the "Remove" link beneath the filename. This will remove the attachment from Paperpile's database, after which point you can re-insert the appropriate file. After the replacement file is inserted, make sure the Google Drive sync completes successfully to ensure your data won't be lost in the future!
Shared file(s) unavailable from Google Drive: in some cases, a file may be correctly synced to Google Drive but unavailable to you for other reasons. In this case you may see a message like those above, or a slightly different notice:

A variety of problems may cause a synced file to fail to download. Someone who shared papers with you may have inadvertently deleted those PDFs while cleaning their cloud storage, or Google Drive may be experiencing a temporary outage. You can check Google's service status and verify that your Internet connection is working. If the problem persists, contact the owner of the Paperpile item you are trying to open or get in touch with Paperpile Support.

PDF Downloads

Paperpile supports automatically downloading PDFs from an extensive number of journal and publisher websites. However, some smaller journals are not yet supported, and full-text paywalls may be encountered at subscription-based journal websites. Here are some tips on troubleshooting PDF downloads.

If Paperpile fails to download a PDF, you will see one of the following messages in the main item display:

PDF not found

This message is shown when Paperpile attempted to auto-download a PDF file but failed to locate the PDF. Paperpile may not yet support automatic PDF downloads from this journal or publisher, or there may be an error in the way Paperpile locates PDFs for this journal. Click Report in the pop-up panel to notify Paperpile Support.

PDF restricted

This message is shown when Paperpile detects that a paywall has been encountered while attempting to automatically download a PDF. This may happen while you are using Paperpile off-campus or if your institute does not subscribe to the given journal.

If you think the paywall message is in error, try visiting the journal's website using the blue link. If you can access the full-text PDF without trouble, use the Report link in the pop-up panel (example) to notify Paperpile Support.

No PDF links found

This message is shown when Paperpile could not find a supported PDF link within the set of links contained in the paper. Check to ensure that a link to the publisher's website exists (this can be done by opening the Edit window for the given paper). If no such publisher's link exists, try running Auto-Update to automatically fetch more complete metadata from online.

If a link to the publisher's website does exist, then Paperpile may not yet support PDF downloads for the given publisher. Click Report to contact Paperpile Support — we are always working to improve our PDF download coverage, and sending a report will signal to us that users would benefit from expanding coverage to this publisher.

Proxy connection failed

This message is shown when you have configured a proxy server for remote access but Paperpile could not connect to the server. The most common reason is you are not logged in to your institution's or library's proxy. Follow the link to log in and retry.

Other options for adding PDFs

If the automatic PDF download fails, Paperpile provides several options for adding a PDF to an item in your library. Click the "Add PDF" menu to see the options:

Browse Manually: This option will open a new tab at the paper's main website. If you can manually identify the fulltext PDF in this website, right-click on the PDF link and choose to attach the PDF to this paper.

Search Google: This option will open a new tab with a PDF-specific Google search for the current article title. Often, authors will post a reprint of an article on their institutional website. If you find a suitable PDF in the search results, click Select PDF to download and attach the PDF to your library item.

Choose a File...: This option will open a file upload dialog, allowing you to chose a PDF file from your computer to attach to the current item in your library.

Search within PDFs

Paperpile's default PDF view provides a note-taking panel and toolbar that allows you to share, export, or download the current paper:

Unfortunately, when Chrome's built in PDF viewer is "wrapped" inside a web-page in this way, Chrome does not allow you to search within the PDF using Ctrl-F. If you want to search within the PDF there are two things you can do:

View plain PDFs by default: You can change your PDF viewing preference by visiting the Paperpile settings panel at . Changing to the "Default PDF viewer" will set Paperpile to open PDFs in a plain tab.
Vote for the Chrome bug to be fixed: this bug has been in Chrome for a long time, but it has not yet been fixed. You can visit the page for Chrome Issue 170478 and click the star icon to cast your vote for this bug to be fixed.

Server Communication

The web application and Chrome extension communicate with Paperpile's servers in order to read, write and update items in your library. Communication with the server can fail for a number of reasons:

You are logged out of Paperpile. If you are starting Paperpile from a new computer or if you haven't logged in for a long time, you may have been logged out of Paperpile. Just visit Paperpile to sign in again. Once you have signed in, try reloading your desired page or re-running your desired action.
Your network connection has been lost. Paperpile currently requires an Internet connection to operate normally, so a slow or missing network link will disable most important operations.
The Paperpile server is down. Please visit paperpile.com/welcome to check our server status, or keep up to date by following @paperpile

Sharing Papers with Colleagues

Paperpile comes with powerful features for privately sharing papers and PDFs with your colleagues. Visit the sharing guide to learn more about how sharing with Paperpile works; here are some tips for what to do when you encounter common sharing issues.

A shared folder could not be found

This message may occur if a colleague added you to the folder using an email address other than the one associated with your Paperpile account. Contact your colleague and request that they add you to the folder using your Paperpile email address; once this is done, the shared folder will show up the next time you open Paperpile.

Alternatively, the shared folder may have been deleted by the owner and is not available anymore.

Problems with shared web links

You can share papers via unique web links. Anyone with the link can access the list of papers and associated PDFs and supplementary files. Some issues you may encounter accessing shared links and downloading shared files:

Paper collection could not be found. The link you are trying to view may not be correct. Make sure you use the exact and complete link that was shared with you. Alternatively, if you are trying to view a shared folder through a web link, the owner might have deleted the folder and it is not available anymore. Ask the user who has shared the link with you for a correct and up-to date link.
File download expired. Paperpile's sharing feature is intended for personal sharing of references and files between collaborators, not for public distribution of articles. In order to mitigate large-scale downloads, Paperpile limits the number of times a PDF may be downloaded via the web. Please ask the folder's owner to re-share the disabled item if you have a legitimate need to access the privately-shared content.
File download error. File downloads only work if the owner of the file has synced the file to his or her Google Drive. If a download fails it might be a temporary problem with Google Drive servers. Try again after a few minutes. If the error persists ask the owner of the file to sign-in to Paperpile and double check that the file is synced to Google Drive and syncing is activated. More information how to activate syncing and check the syncing state of a file is available in our syncing guide.

If you are experiencing an issue not covered by this troubleshooting guide, or if you think you found a bug, don't hesitate to contact us!

You can send us a message from within Paperpile by clicking the "?" button in the lower-right corner of the screen, or email us at support@paperpile.com.

Copying your Paperpile debug information

Our support team may ask you to share with us some debug information recorded by the Paperpile Chrome extension. Follow these steps to locate this info:
Using the Chrome menu go to .
Click the "Developer Mode" checkbox in the upper-right.
Find the Paperpile Extension and click "Inspect views: html/background.html".
This will open a new window. Choose the "Console" tab, then select all (⌘-A or Ctrl-A) and paste the contents in an email to support@paperpile.com.