Getting started with the Paperpile Web App
Welcome to Paperpile 👋.
Once you have signed up at https://paperpile.com with your Google account and installed the Chrome extension, you are ready to go. Here is a quick intro to get you started.
If you already have a library from Mendeley, EndNote, or any other software, see our Migration Guides
Find and collect papers
First thing's first — you'll want to add some papers to your new library. Paperpile make this easy with three ways to find and add articles from the web:
Click   to search online directly from Paperpile or upload PDFs from your hard drive.

Tip: to quickly upload PDFs, just drag and drop from your file manager into the Paperpile window.

Use your browser to search for articles on Google Scholar, PubMed or ArXiv and click the import buttons:
Click the Paperpile button  in your browser toolbar to import from hundreds of supported publishers' sites. A green arrow appears on the button when you're viewing a supported site (For an example visit doi.org/10.1038/nature10530).
Get organized
Next, add some folders and labels to help keep things tidy. Click in the left panel to add a new folders and labels.
Drag a paper into a folder or on a label using the drag handle on the left side of the paper, or use the toolbar buttons to organize many papers at once:

Cite, copy, paste
You can quickly copy and paste formatted citations using the Cite button in the toolbar: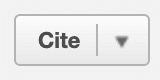 Choose between copying the plain citation string or the BibTeX data when you write in LaTeX/BibTeX.
What's next?
Where to go from here? You can learn about some of Paperpile's unique features in our other guides: