What is a thesis statement?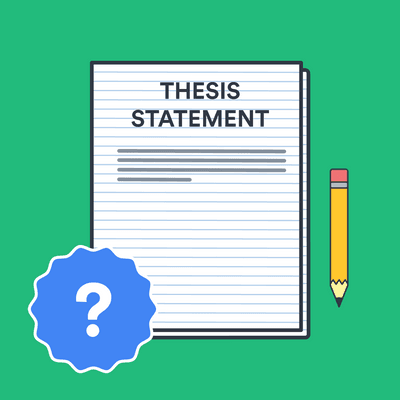 What is a thesis statement?
A thesis statement is a concise description of the goal of your work. This element is one of the most essential components of academic writing, as it tells your readers what they can expect in your paper.
Definition
A thesis statement is the main argument of your paper or thesis.
If you find yourself in the process of writing a a paper, but you don't know how to create a thesis statement, you've come to the right place. In the next paragraphs, you will learn about the most important elements of a thesis statement and how to come up with one.
Purpose of a thesis statement
A thesis statement highlights the main topic, shows how it will evolve, and conveys clearly the aim of your work. It does not only share the topic but it conveys the conclusion you came up with.
A good thesis statement provides directions for the development of the topic throughout the paper. In sum, this element of academic writing is crucial to sound research.
How to write the best thesis statement
You can create a great thesis statement by following the format we outlined in our guide How to write a thesis statement.
In general, you should adhere to the following tips to write the best thesis statement:
Focus the main idea of your thesis into one or two sentences.
Write the answer to the main question of your topic.
Clearly state your position in relation to the topic.
Do not state the obvious. Give a disputable stance that requires evidence.
Thesis statement example
Here's an example of a thesis statement:
Example
In what follows, I will explore Fiorina's position in more depth, focusing especially on her claim that technology is "a great tool for democratization." Ultimately, I argue that the primary problem with Fiorina's stance lies in her laissez-faire understanding of technology. By granting technology a kind of independent existence apart from human motivation and intent—by positing that "technology permits anybody to play," as if it possesses an autonomy all its own—Fiorina unwittingly opens the way for the very kind of discriminatory and undemocratic mechanisms that her position seemingly rejects.
Frequently Asked Questions about thesis statements
🥅 Where should I include my thesis statement?

A thesis statement is part of the introduction of your paper. It is usually found in the first or second paragraph to let the reader know your research purpose from the beginning.
📏 How long should a thesis statement be?

In general, a thesis statement should have one or two sentences. It really depends on your academic and expertise level. Take a look at our guide about the length of thesis statements, for more insight on this topic.
🎈 Where can I find correct examples of thesis statements?

Here is a list of Thesis Statement Examples that will help you understand better how to write them.
👶 Should high school essays include thesis statements?

Yes. Every good essay should include a thesis statement as part of its introduction. Of course, if you are a high school student you are not expected to have an extremely elaborate statement. A couple of clear sentences indicating the aim of your essay will be more than enough.
📼 Where can I find a video tutorial of thesis statements?

Here is a great YouTube tutorial showing How To Write An Essay: Thesis Statements.
Related Articles