How to write an excellent thesis conclusion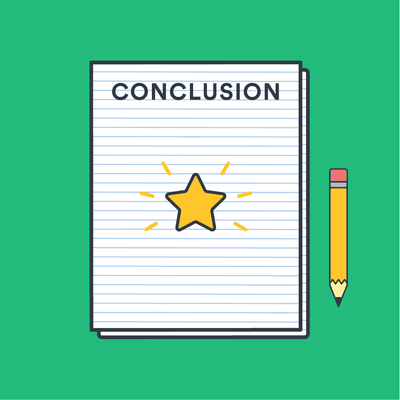 At this point in your writing, you have most likely finished your introduction and the body of your thesis, dissertation, or research paper. While this is a reason to celebrate, you should not underestimate the importance of your conclusion. The conclusion is the last thing that your reader will see, so it should be memorable.
A good conclusion will review the key points of the thesis and explain to the reader why the information is relevant, applicable, or related to the world as a whole. Make sure to dedicate enough of your writing time to the conclusion and do not put it off until the very last minute.
This article provides an effective technique for writing a conclusion adapted from Erika Eby's The College Student's Guide to Writing a Good Research Paper: 101 Easy Tips & Tricks to Make Your Work Stand Out.
While the thesis introduction starts out with broad statements about the topic, and then narrows it down to the thesis statement, a thesis conclusion does the same in the opposite order.
Thesis conclusion quick guide
Restate the thesis.
Review or reiterate key points of your work.
Explain why your work is relevant.
Include a core take-away message for the reader.
Restate the thesis
The best way to start a conclusion is simply by restating the thesis statement. That does not mean just copying and pasting it from the introduction, but putting it into different words.
You will need to change the structure and wording of it to avoid sounding repetitive. Also, be firm in your conclusion just as you were in the introduction. Try to avoid sounding apologetic by using phrases like "This paper has tried to show..."
The conclusion should address all the same parts as the thesis while making it clear that the reader has reached the end. You are telling the reader that your research is finished and what your findings are.
Example
I have argued throughout this work that the point of critical mass for biopolitical immunity occurred during the Romantic period because of that era's unique combination of post-revolutionary politics and innovations in smallpox prevention. In particular, I demonstrated that the French Revolution and the discovery of vaccination in the 1790s triggered a reconsideration of the relationship between bodies and the state.
Review or reiterate key points of your work
The next step is to review the main points of the thesis as a whole. Look back at the body of of your project and make a note of the key ideas. You can reword these ideas the same way you reworded your thesis statement and then incorporate that into the conclusion.
You can also repeat striking quotations or statistics, but do not use more than two. As the conclusion represents your own closing thoughts on the topic, it should mainly consist of your own words.
In addition, conclusions can contain recommendations to the reader or relevant questions that further the thesis. You should ask yourself:
What you would ideally like to see your readers do in reaction to your paper?
Do you want them to take a certain action or investigate further?
Is there a bigger issue that your paper wants to draw attention to?
Also, try to reference your introduction in your conclusion. You have already taken a first step by restating your thesis. Now, check whether there are other key words, phrases or ideas that are mentioned in your introduction that fit into your conclusion. Connecting the introduction to the conclusion in this way will help readers feel satisfied.
Example
I explored how Mary Wollstonecraft, in both her fiction and political writings, envisions an ideal medico-political state, and how other writers like William Wordsworth and Mary Shelley increasingly imagined the body politic literally, as an incorporated political collective made up of bodies whose immunity to political and medical ills was essential to a healthy state.
Explain why your work is relevant
Although you can encourage readers to question their opinions and reflect on your topic, do not leave loose ends. You should provide a sense of resolution and make sure your conclusion wraps up your argument. Make sure you explain why your thesis is relevant to your field of research and how your research intervenes within, or substantially revises, existing scholarly debates.
Example
This project challenged conventional ideas about the relationship among Romanticism, medicine, and politics by reading the unfolding of Romantic literature and biopolitical immunity as mutual, co-productive processes. In doing so, this thesis revises the ways in which biopolitics has been theorized by insisting on the inherent connections between Romantic literature and the forms of biopower that characterize early modernity.
A take-away for the reader
End your conclusion with something memorable, such as:
a question
a call to action
a recommendation
a gesture towards future research
a brief explanation of how the problem or idea you covered remains relevant
Ultimately, you want readers to feel more informed, or ready to act, as they read your conclusion.
Example
Yet, the Romantic period is only the beginning of modern thought on immunity and biopolitics. Victorian writers, doctors, and politicians upheld the Romantic idea that a "healthy state" was a literal condition that could be achieved by combining politics and medicine, but augmented that idea through legislation and widespread public health measures. While many nineteenth-century efforts to improve citizens' health were successful, the fight against disease ultimately changed course in the twentieth century as global immunological threats such as SARS occupied public consciousness. Indeed, as subsequent public health events make apparent, biopolitical immunity persists as a viable concept for thinking about the relationship between medicine and politics in modernity.
More resources on writing thesis conclusions
Need more advice? Read our 5 additional tips on how to write a good thesis conclusion.
Frequently Asked Questions about writing an excellent thesis conclusion
🍎 What is the secret to writing a great thesis conclusion?

The conclusion is the last thing that your reader will see, so it should be memorable. To write a great thesis conclusion you should:

Restate the thesis.
Review or reiterate key points of your work.
Explain why your work is relevant.
Include a core take-away message for the reader.
🍇 What information should I include in my thesis conclusion?

The basic content of a conclusion is to review the main points from the paper. This part represents your own closing thoughts on the topic. It should mainly consist of the outcome of the research in your own words.
🥕 How long should my thesis conclusion be?

The length of the conclusion will depend on the length of the whole thesis. Usually, a conclusion should be around 5-7% of the overall word count.
🧂 How should I end a thesis conclusion?

End your conclusion with something memorable, such as a question, warning, or call to action. Depending on the topic, you can also end with a recommendation.
🍡 Where can I find examples of theses conclusions?

In Open Access: Theses and Dissertations you can find thousands of completed works. Take a look at any of the theses or dissertations for real-life examples of conclusions that were already approved.
Related Articles