What is the abstract of a paper?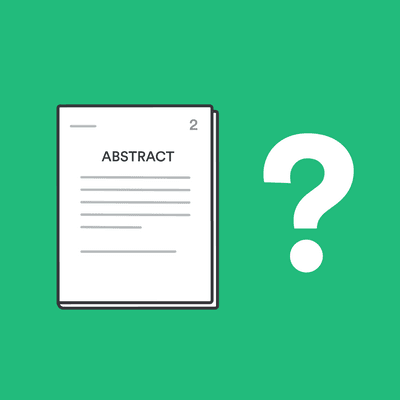 What is an abstract?
Definition of an abstract
An abstract is a summary of the main contents of a paper.
An abstract provides an overview of a paper's main arguments and conclusions. They provide the reader with a first glimpse at the paper's contents. An abstract can influence the popularity of a paper: a well-written one will attract readers, while a poorly-written one may drive them away.
➡️ Abstracts are also used for conference submissions. If you're preparing a presentation, take a look at our guide on how to make a scientific presentation.
The function of an abstract
The purpose of an abstract is to provide a concise description of the basic points of the paper. Researchers, academics, and general readers focus on reading abstracts before reading the rest of the paper. This way, they know what to expect in the following pages.
By reading an abstract, people decide if the paper's information is useful for their own research or not. Therefore, it is imperative to include the most relevant aspects of the paper in the abstract.
➡️ Our guide on how to write an abstract features tips and strategies for writing and formatting abstracts.
Abstract style
The exact format of an abstract depends on the citation style you implement. Whether it's a known style (like APA, IEEE, etc.) or a journal's style, each format has its own guidelines, so make sure to know which style you are using before writing your abstract.
APA is one of the most commonly used styles to format an abstract. Therefore, we created a guide with exact instructions on how to write an abstract in APA style, and a template to download:
📕 APA abstract page: format and template
Additionally, you will find below an IEEE and ASA abstract guide by Purdue Online Writing Lab:
📗 IEEE General Format - Abstract
📘 ASA Manuscript Formatting - Abstract
Frequently Asked Questions about abstracts
🐶 At what point of my research should I write the abstract?

You should always write an abstract last. Once you finish writing the whole paper, you are ready to write the abstract. This way you can include all important aspects of the paper, such as your aim of research, methodology, and conclusion.
🐕 How many words does an abstract have?

The length of a abstract depends on the formatting style of the paper. For example, APA style calls for 150 to 250 words. Generally, you need between 150-300 words.
🐩 Should the abstract be included in the index?

No. An abstract has an independent section after the title page and before the index, and should not be included in the table of contents.
🐺 How to write an abstract in APA style?

Take a look at APA abstract page: format and template for exact details on how to format an abstract in APA style.
🦊 Where can I access examples of abstracts?

You can access any paper through Google Scholar or any other search engine, pick a paper and read the abstract. Abstracts are always freely available to read.
Related Articles