What is research methodology?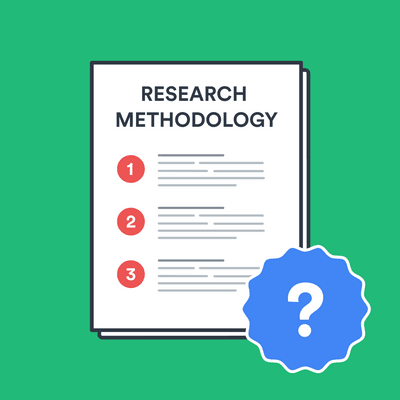 When you're working on your first piece of academic research, there are many different things to focus on, and it can be overwhelming to stay on top of everything. This is especially true of budding or inexperienced researchers.
If you've never put together a research proposal before or find yourself in a position where you need to explain your research methodology decisions, there are a few things you need to be aware of.
Once you understand the ins and outs, handling academic research in the future will be less intimidating. We break down the basics below:
The basics of research methodology
What is research methodology?
A research methodology encompasses the way in which you intend to carry out your research. This includes how you plan to tackle things like collection methods, statistical analysis, participant observations, and more.
You can think of your research methodology as being a formula. One part will be how you plan on putting your research into practice, and another will be why you feel this is the best way to approach it. Your research methodology is ultimately a methodological and systematic plan to resolve your research problem.
In short, you are explaining how you will take your idea and turn it into a study, which in turn will produce valid and reliable results that are in accordance with the aims and objectives of your research. This is true whether your paper plans to make use of qualitative methods or quantitative methods.
Why do you need a research methodology?
The purpose of a research methodology is to explain the reasoning behind your approach to your research - you'll need to support your collection methods, methods of analysis, and other key points of your work.
Think of it like writing a plan or an outline for you what you intend to do.
When carrying out research, it can be easy to go off-track or depart from your standard methodology.
What needs to be included?
With all that said, how do you write out your standard approach to a research methodology?
As a general plan, your methodology should include the following information:
Your research method. You need to state whether you plan to use quantitative analysis, qualitative analysis, or mixed-method research methods. This will often be determined by what you hope to achieve with your research.
Explain your reasoning. Why are you taking this methodological approach? Why is this particular methodology the best way to answer your research problem and achieve your objectives?
Explain your instruments. This will mainly be about your collection methods. There are varying instruments to use such as interviews, physical surveys, questionnaires, for example. Your methodology will need to detail your reasoning in choosing a particular instrument for your research.
What will you do with your results? How are you going to analyze the data once you have gathered it?
Advise your reader. If there is anything in your research methodology that your reader might be unfamiliar with, you should explain it in more detail. For example, you should give any background information to your methods that might be relevant or provide your reasoning if you are conducting your research in a non-standard way.
How will your sampling process go? What will your sampling procedure be and why? For example, if you will collect data by carrying out semi-structured or unstructured interviews, how will you choose your interviewees and how will you conduct the interviews themselves?
Any practical limitations? You should discuss any limitations you foresee being an issue when you're carrying out your research.
Why do you need to document your research method?
In any dissertation, thesis, or academic journal, you will always find a chapter dedicated to explaining the research methodology of the person who carried out the study, also referred to as the methodology section of the work.
A good research methodology will explain what you are going to do and why, while a poor methodology will lead to a messy or disorganized approach.
You should also be able to justify in this section your reasoning for why you intend to carry out your research in a particular way, especially if it might be a particularly unique method.
Having a sound methodology in place can also help you with the following:
When another researcher at a later date wishes to try and replicate your research, they will need your explanations and guidelines.
In the event that you receive any criticism or questioning on the research you carried out at a later point, you will be able to refer back to it and succinctly explain the how and why of your approach.
It provides you with a plan to follow throughout your research. When you are drafting your methodology approach, you need to be sure that the method you are using is the right one for your goal. This will help you with both explaining and understanding your method.
It affords you the opportunity to document from the outset what you intend to achieve with your research, from start to finish.
What are the different types of research instruments?
A research instrument is a tool you will use to help you collect, measure and analyze the data you use as part of your research.
The choice of research instrument will usually be yours to make as the researcher and will be whichever best suits your methodology.
There are many different research instruments you can use in collecting data for your research.
Generally, they can be grouped as follows:
Interviews (either as a group or one-on-one). You can carry out interviews in many different ways. For example, your interview can be structured, semi-structured, or unstructured. The difference between them is how formal the set of questions is that is asked of the interviewee. In a group interview, you may choose to ask the interviewees to give you their opinions or perceptions on certain topics.
Surveys (online or in-person). In survey research, you are posing questions in which you ask for a response from the person taking the survey. You may wish to have either free-answer questions such as essay-style questions, or you may wish to use closed questions such as multiple choice. You may even wish to make the survey a mixture of both.
Focus Groups. Similar to the group interview above, you may wish to ask a focus group to discuss a particular topic or opinion while you make a note of the answers given.
Observations. This is a good research instrument to use if you are looking into human behaviors. Different ways of researching this include studying the spontaneous behavior of participants in their everyday life, or something more structured. A structured observation is research conducted at a set time and place where researchers observe behavior as planned and agreed upon with participants.
These are the most common ways of carrying out research, but it is really dependent on your needs as a researcher and what approach you think is best to take.
It is also possible to combine a number of research instruments if this is necessary and appropriate in answering your research problem.
Qualitative / quantitative / mixed research methodologies
There are three different types of methodologies, and they are distinguished by whether they focus on words, numbers, or both.
Qualitative vs. Quantitative data.
Data type
What is it?
Methodology

Quantitative

This methodology focuses more on measuring and testing numerical data. What is the aim of quantitative research?

When using this form of research, your objective will usually be to confirm something.

Surveys, tests, existing databases.

For example, you may use this type of methodology if you are looking to test a set of hypotheses.

Qualitative

Qualitative research is a process of collecting and analyzing both words and textual data.

This form of research methodology is sometimes used where the aim and objective of the research are exploratory.

Observations, interviews, focus groups.

Exploratory research might be used where you are trying to understand human actions i.e. for a study in the sociology or psychology field.

Mixed-method

A mixed-method approach combines both of the above approaches.

The quantitative approach will provide you with some definitive facts and figures, whereas the qualitative methodology will provide your research with an interesting human aspect.

Where you can use a mixed method of research, this can produce some incredibly interesting results. This is due to testing in a way that provides data that is both proven to be exact while also being exploratory at the same time.
➡️ Want to learn more about the differences between qualitative and quantitative research, and how to use both methods? Check out our guide for that!
How do you choose the best research methodology for you?
If you've done your due diligence, you'll have an idea of which methodology approach is best suited to your research.
It's likely that you will have carried out considerable reading and homework before you reach this point and you may have taken inspiration from other similar studies that have yielded good results.
Still, it is important to consider different options before setting your research in stone. Exploring different options available will help you to explain why the choice you ultimately make is preferable to other methods.
If proving your research problem requires you to gather large volumes of numerical data to test hypotheses, a quantitative research method is likely to provide you with the most usable results.
If instead you're looking to try and learn more about people, and their perception of events, your methodology is more exploratory in nature and would therefore probably be better served using a qualitative research methodology.
It helps to always bring things back to the question: what do I want to achieve with my research?
Once you have conducted your research, you need to analyze it. Here are some helpful guides for qualitative data analysis:
➡️ How to do a content analysis
➡️ How to do a thematic analysis
➡️ How to do a rhetorical analysis
Frequently Asked Questions about research methodology
❓ What is meant by research methodology?

Research methodology refers to the techniques used to find and analyze information for a study, ensuring that the results are valid, reliable and that they address the research objective.
🔬 What are the 4 types of research methodology?

Data can typically be organized into four different categories or methods: observational, experimental, simulation, and derived.
📊 How do you write a research methodology?

Writing a methodology section is a process of introducing your methods and instruments, discussing your analysis, providing more background information, addressing your research limitations, and more.
📇 What do you write in a research methodology proposal?

Your research methodology section will need a clear research question and proposed research approach. You'll need to add a background, introduce your research question, write your methodology and add the works you cited during your data collecting phase.
💾 What is the importance of research methodology?

The research methodology section of your study will indicate how valid your findings are and how well-informed your paper is. It also assists future researchers planning to use the same methodology, who want to cite your study or replicate it.
Related Articles