Credible sources: what are they and how to identify them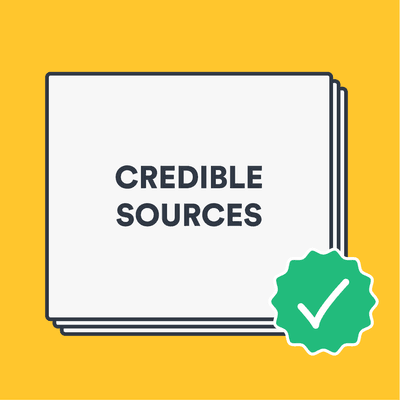 Sources that are up-to-date
Make sure that the sources you use are not too old or out of date. There might be a more recent paper with new and better insights on your topic.
Research papers, books and articles that are written by well-respected authors
If an author has a good reputation and is well-known in their field, it is highly likely that the source can be trusted.
Sources that you find at your university's library
In general, sources that you find at your university's library are credible, be it books, scholarly journals, articles, music recordings or DVD's. But be aware that your university's library can also have popular media, which may not be a credible source of information.
Sources from online scholarly databases
Online library databases are probably one of the best sources of articles from scholarly journals to which you will have access. Your library will most likely be subscribed to multiple online databases and provide information on how to access them. Credible online scholarly databases are also:
Government websites
Websites that end with .gov, .edu, .ac, are generally considered as credible sources. Examples of reliable websites are:
Sources from newspapers
More caution is required when considering using news articles, as the reliability of news sources available online varies significantly. Good sources that can generally be trusted are for example:
Sources from social networks, blogs, and sites like Youtube or Vimeo
With these sources, it really depends if they are credible or not. They may or may not be highly biased, insufficiently researched and not well written. These sources should be be checked thoroughly before being used in an academic paper.
Frequently Asked Questions about credible sources
🦚 How do you recognize a credible source?

A credible source is usually written by authors with a good reputation, it is up-to-date, and can be accessed through your university's library.
🐧 What defines a credible source?

A credible source is defined as an unbiased and supported academic reference, written by well-known researchers.
🦆 What are some examples of credible sources?

Some examples of credible sources are research articles from any of the following journals:
🐓 Should I use only credible sources for my paper?

Yes! Academic writing requires you to use credible sources only.
🕊️ What are the benefits of credible sources?

The benefit of using credible sources is a having a legitimate academic paper, based on real references supporting your arguments, which will ultimately translate into academic prestige.
Related Articles