How to proofread your thesis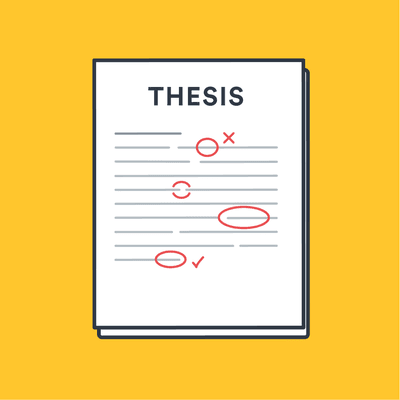 Now that you've finished your thesis, it's time to proofread it. You'll need to do this several times to ensure that you submit a solid thesis that's free of grammatical mistakes and typos. We've put together a few tips that can help you optimize the proofreading stage of your thesis.
1. Review your institution's guidelines
Your institution will likely have specific guidelines for formatting your thesis. Be sure to double-check the guidelines for layout and format issues, including:
paper size and margins
running head
page numbering
line spacing
title page
Take time to read through the guidelines again and keep them handy as you proofread your thesis.
The proofreading stage is also a good time to check your citations or references. Whether you're using Harvard, APA (American Psychological Association), MLA (Modern Language Association) or some other citation style, make sure that your citations are correct.
2. Take a break before you read anything
Give yourself some time off before you start proofreading your thesis. This allows you to return to your work with fresh eyes. Ideally, you should plan to take a break of several weeks before you begin proofreading; however, even a short break can help you refocus and catch more mistakes.
3. Determine how to proofread your thesis
Some people like to proofread their thesis on screen, while others like to print it out and read it on paper. Whichever method you choose, be aware that you can't read it all at once. Rather, make a plan for how you want to approach proofreading and stick to it. You'll generally want to break up your process by chapter or section.
Consider breaking down your thesis proofreading process in one of these ways:
by chapter
by section
by paragraph
4. Use online tools
Several online tools can help you with proofreading and some of them are even free. Use tools like Grammarly or Proofread Bot for proofreading or Readable.com or Slickwrite to critique your grammar and writing. A quick Google search will show you that there are dozens of tools out there that can help you with your thesis!
3-week thesis proofreading plan
Week 1: Read a chapter a day, watching out for major issues in argumentation, use of evidence, and organization.
Week 2: Complete substantive revisions and check that all citations are correct. Use a reference manager like Paperpile to create accurate citations and bibliographies.
Week 3: Re-read each chapter, checking for any additional surface errors. Double-check that your formatting aligns with your department's thesis requirements.
5. Read your thesis in a different order
Try reading your work backwards or in a random order. This approach often works better than reading your work from beginning to end.
By switching up your expectations, you will catch more errors. Plus, starting at the end allows you to keep your conclusions in mind as you read and helps you to verify that you've proven your thesis statement.
6. Read your thesis out loud
The best way to catch grammatical, stylistic, and organizational mistakes is to read your work aloud to yourself. Hearing your own words greatly increases your ability to find typos and errors.
Keep your eye out for the following common errors:
subject-verb agreement
faulty predication
misplaced modifiers
tense changes
incorrect citations
7. Reach out to your peers
If you have friends or peers who are also writing theses, or who have completed them, reach out for advice and help. For instance, blogger Pat Thomson suggests setting up a proofreading deal with a friend.
Also, you might find it useful to join or start a writing group. These groups build accountability and provide writers with support for all stages of the research and writing process.
Frequently Asked Questions about proofreading your thesis
⏰ How long does it take to proofread a thesis?

The length of the proofreading process depends on the length of the thesis. Plus, you should plan to take a couple of weeks off before you start proofreading. It's also a good idea to break up longer projects by chapter or section.
📝 What aspects of the thesis layout should I check?

Always double-check your institution's guidelines for the general layout, including:

paper size and margins
running head
page numbering
line spacing
title page
🤝 Should someone else proofread my thesis?

If you know someone who is willing to proofread your thesis, then definitely ask! Friends and peers who are also working on theses, or who have recently finished, can provide you with useful insights about the grammar, style, and structure of your thesis.
🦊 What is a proofreading checklist?

As part of your proofreading plan, you should create a checklist of items that you want to watch out for while proofreading your thesis. Your checklist might include:

Spelling and typos
Verb tenses and subject-verb agreement
Sentence structure
Layout and formatting
Citations and/or references
Consistency of style
Organization
Overall flow
🏭 How many times should you proofread your thesis?

You should plan to proofread your thesis as many times as it takes to ensure that you submit a polished and professional work. Typically, however, most thesis writers proofread their work around three to four times.
Related Articles