How to write a literature review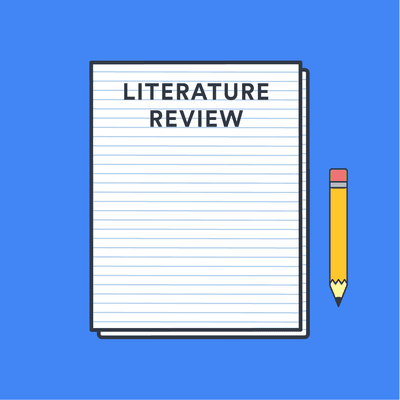 What is a literature review?
In a thesis, a literature review is part of the introduction, but it can be a separate section as well. It is designed to provide an overview of the sources you have explored while researching a particular topic, such as books, journal articles and theses. A good literature review does not just summarize sources, it analyzes previous research showing gaps that your own research will attempt to fill. It also demonstrates to your readers how your research fits within a larger field of study.
6 steps to write a good literature review
A good literature review needs to do the following:
Identify the main purpose of the literature review
Do an extensive research
Evaluate and select relevant sources
Analyze the sources
Plan a structure
Start writing
Determine the purpose of your literature review
In the first step, make sure you know specifically what the assignment is and what form your literature review should take. Read your assignment carefully and seek clarification from your professor or instructor if needed. You should be able to answer the following questions:
How many sources do I need to include?
What types of sources should I review?
Should I evaluate the sources?
Should I summarize, synthesize or critique sources?
Do I need to provide any definitions or background information?
In addition to that, be aware that the narrower your topic, the easier it will be to limit the number of sources you need to read in order to get a good overview of the topic.
Do an extensive search
Now you need to find out what has been written on the topic and search for literature related to your research topic. Make sure to select appropriate source material, which means using academic or scholarly sources, including books, reports, journal articles, government documents and web resources. Come up with a list of relevant keywords and then start your search with your institution's library catalog, and extend it to other useful databases and academic search engines like:
Our guide on how to gather content for your thesis might be helpful at this stage of your research as well as the top list of academic search engines.
Evaluate & select literature
Once you find a useful article, check out the reference list. It should provide you with even more relevant sources. Also, keep a note of the publication title, date, authors' names, page numbers and publishers. Doing this will save you time later, while writing the bibliography.
Read the literature. You will most likely not be able to read absolutely everything that is out there on the topic. Therefore, read the abstract first to determine whether the rest of the source is worth your time. If the source is relevant for your topic:
Read it critically
Look for the arguments presented
Take notes as you read
Organize your notes using a table, mind map, or other technique you are familiar with
Analyze the literature
Now you are ready to analyze the literature you have gathered. While your are working on your analysis, you should ask the following questions:
What are the key terms, concepts and problems addressed by the author?
How is this source relevant for my specific topic?
How is the article structured? What are the major trends and findings?
What are the conclusions of the study?
How are the results presented? Is the source credible?
When comparing different sources, how do they relate to each other? What are the similarities, what are the differences?
Does the study help me understand the topic better?
Are there any gaps in the research that need to be filled? How can I further my research as a result of the review?
Plan the structure of your literature review
As there are various ways to organize your literature review, you should have a rough idea of the structure before you start writing:
Writing in the chronological method means you are presenting the materials according to when they were published. Follow this approach only if a clear path of research can be identified.
A thematic review of literature is organized around a topic or issue, rather than the progression of time. When a literature review focuses on a certain topic, for example religious influence on public policy making, it can still present the evidence in a chronological order. The difference to the chronological method is that it is still emphasizing religious influence on public policy making.
You can order your sources by publication, if the way you present the order of your sources demonstrates a more important trend. That would be the case if with the progression revealed from study to study, the practices of researchers have changed and adapted due to the new revelations.
A methodological approach focuses on the methods used by the researcher. If you have used sources from different disciplines that use a variety of research methods, you might want to compare the results in light of the different methods and discuss how the topic has been approached from different sides.
Write your literature review
Regardless of the structure you chose, a review should always include the following three sections:
An introduction, which should give the reader an outline of why you are writing the review and explain the relevance of the topic.
A body, which divides your literature review into different sections, while having a clear connection between sources. Write in well-structured paragraphs, use transitions and topic sentences and critically analyze each source for how they contribute to the themes you are researching.
A conclusion, which summarizes the key findings, the main agreements and disagreements in the literature, your overall perspective and any gaps or areas for further research.
Other sources to help you write a successful literature review:
Frequently Asked Questions about writing a literature review
🎯 What is the goal of a literature review?

The goal of a literature review is to report the references available in a field of research, without adding the author's opinions.
🧗 In what section of my paper should I add a literature review?

A literature review should have its own independent section. You should indicate clearly in the table of contents where it can be found, and address this section as 'Literature Review.'
🏃🏿‍♂️ What is the average length of a literature review?

There is no set amount of words for a literature review, so the length depends on the research. If you are working with a large amount of sources, then it will be long. If your paper does not depend entirely on references, then it will be short.
🐾 Do I have to include a literature review in my paper?

To have a complete research, you should add a literature review. The point of a literature review is to provide the researcher with sufficient knowledge about the topic in question. By assessing the available sources in your field of research, you will know where you stand, to know where you want to go.
🥨 What type of papers include literature reviews?

Literature reviews are most commonly found in theses and dissertations. However, you find them in research papers as well.
Related Articles