How to use Scopus to calculate your h-index
Scopus is an abstract and citation database that has stored and analyzed millions of publications including journal articles, as well as conference proceedings and books. Scopus is a subscription-based service, but when you are on the campus network, you probably have access to it. But even if you do not have access via your institution, you can use the free author look-up to query your h-index.
Even though Scopus needs to crunch millions of citations to find the h-index, the look-up is pretty fast because Scopus has already prepared individual pages for most researchers, where you will find details about the publication records including the h-index.
Step 1: The Scopus author search form
First, open the Scopus author search form or the free version if you do not have access to Scopus.
Given the millions of articles published each year, the chances are high that you will not get a unique result when you enter the author's name. So try to provide as much information as possible including middle name initials and affiliations if known. Let's give it a try for the well-known physicist Stephen W. Hawking: Note, that when you enter initials make sure that you format them like "S. W.", "SW" will not work.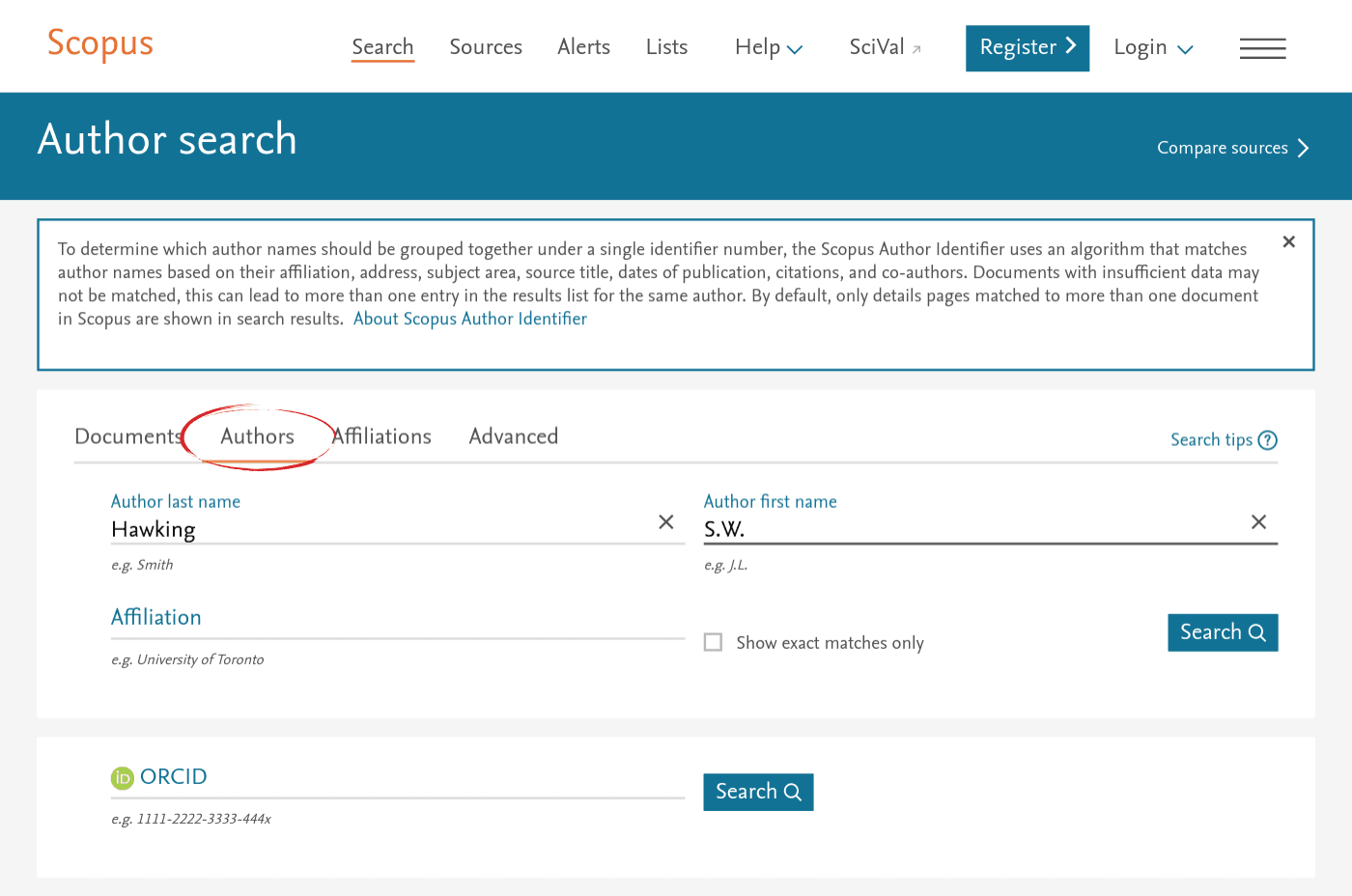 Step 2: Selecting the correct entry from the author results
We are lucky with our search for Stephen Hawking as Scopus' algorithms have already been able to automatically group different spellings of the name (Hawking, Stephen; HAWKING, S. W.; Hawking, Stephen W.; Hawking, S. W.) and present us just a single result. Click on "Hawking, Stephen" to get to the author details page showing the h-index.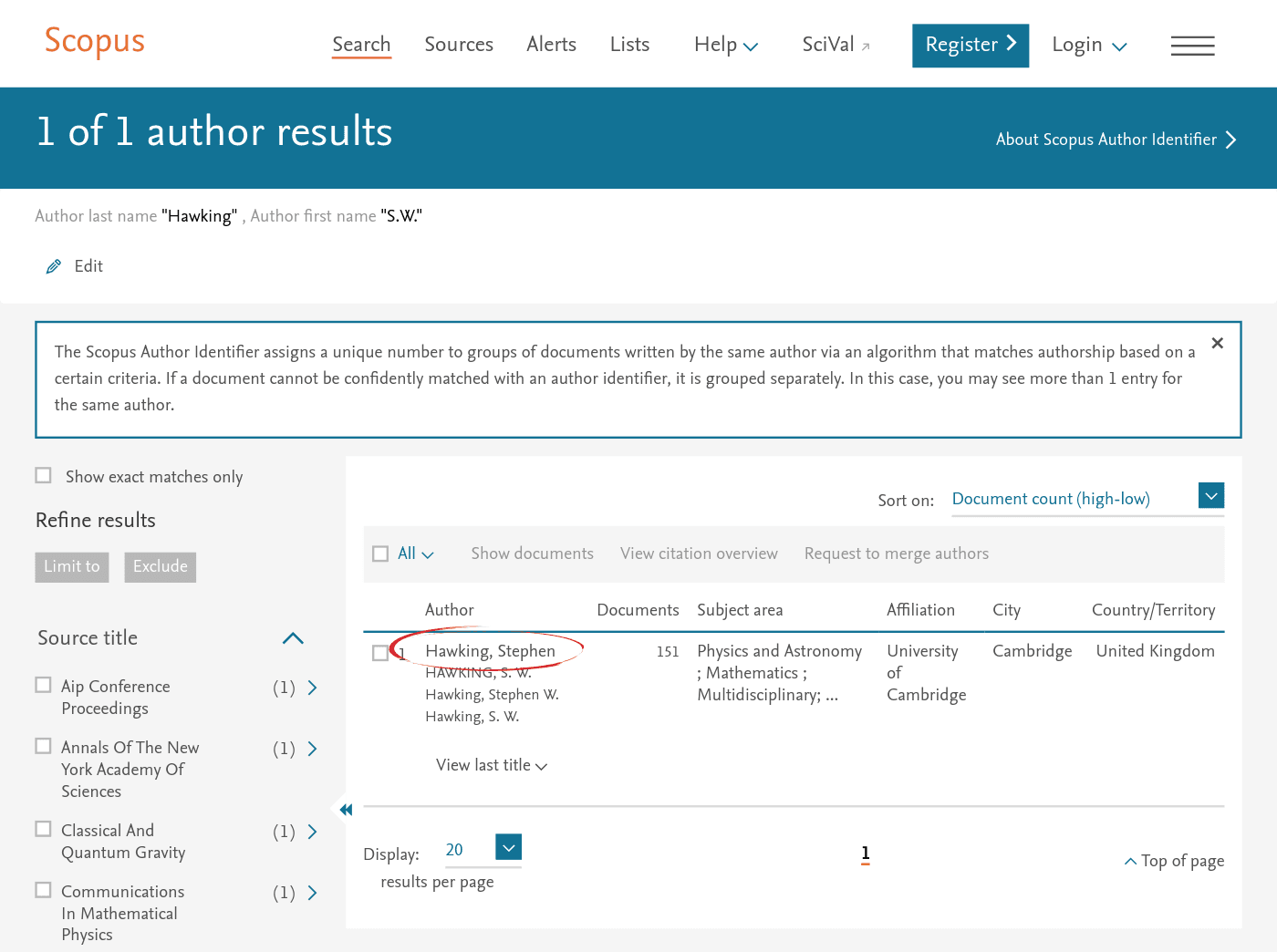 Step 3: Scopus author details page with the h-index
Scopus' author details page gives many bibliometric details including the number of publications, the number of citations, and the h-index.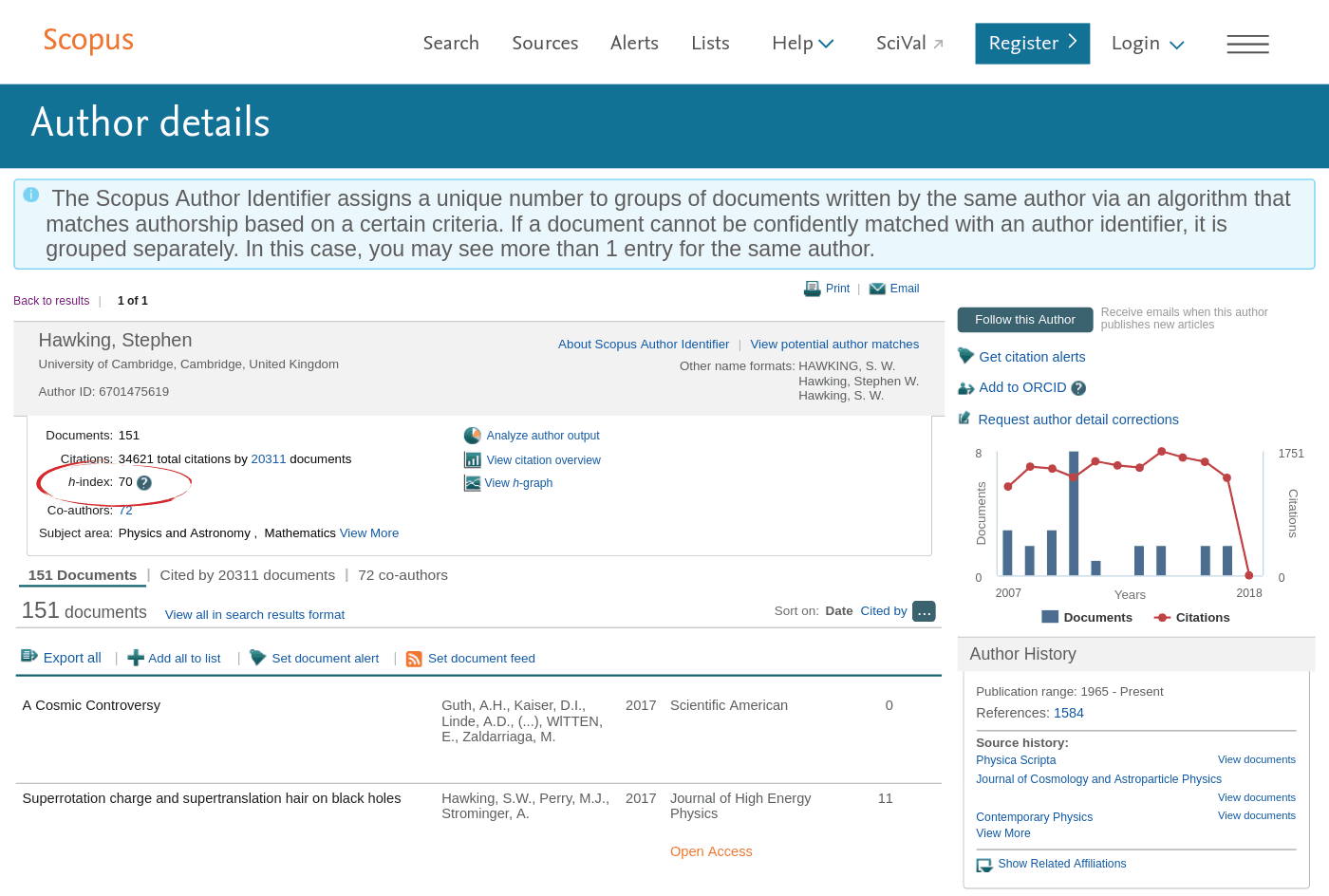 Troubleshooting: what if my publications are split into multiple-author entries in Scopus?
That might be easily the case! If you have or had multiple affiliations, or one of the publishers did not put your middle initial on that paper, then you will end up with multiple entries on the author results page. There is no immediate action you can take to combine the results and get a newly calculated h-index, but you can send a request to merge authors.
Simply select the author entries that should be combined and follow the instructions of the Scopus Author feedback wizard. The good thing is that the updated author entries will then be available to anyone, displaying the up-to-date h-index!
What if all of this did not work?
It might be that Scopus' author search does not return a suitable entry, or that you want an h-index for a specific search term rather than an author.
Scopus does not calculate an h-index on search results automatically the way Web of Science does, but it is still possible to find it manually by ranking the articles by times cited.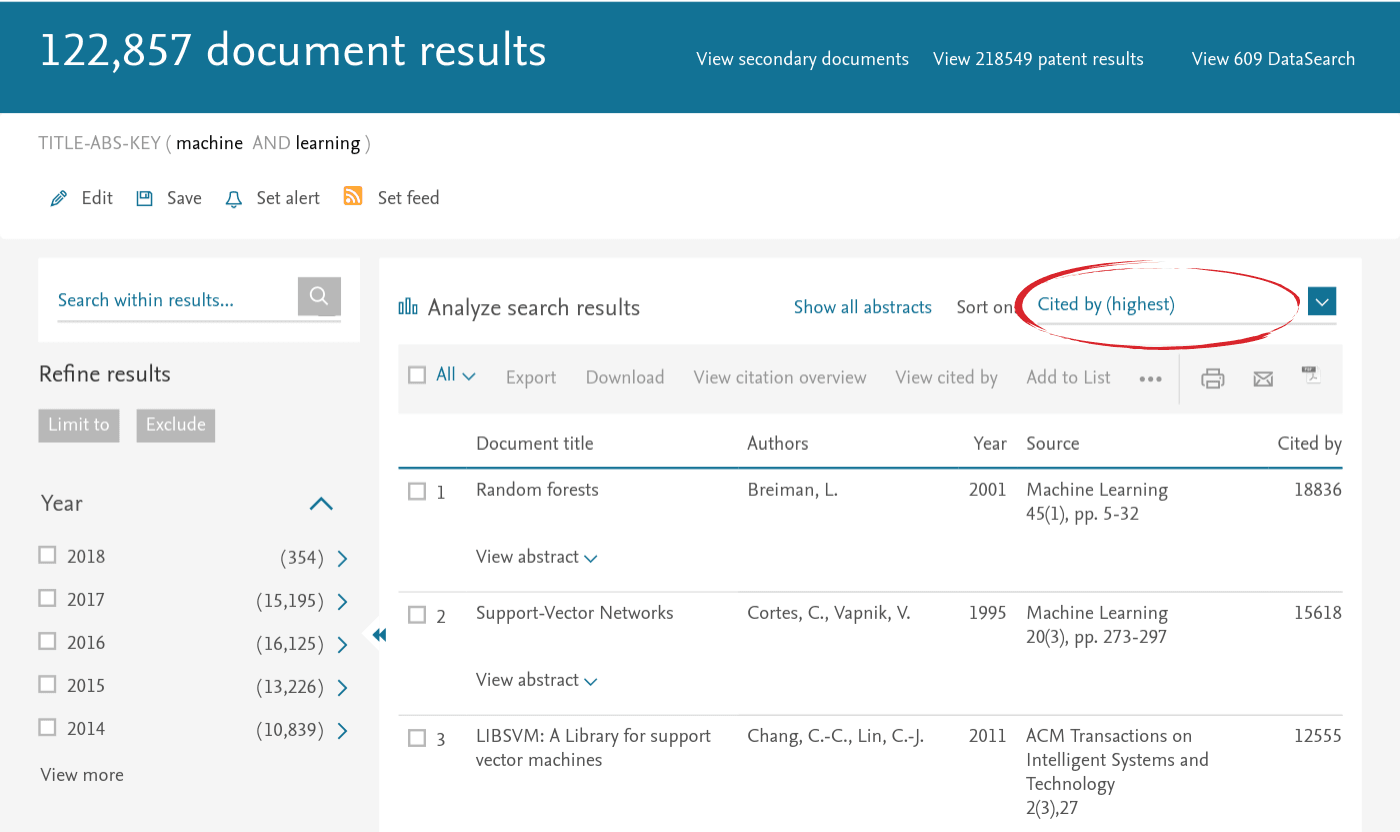 Now scroll to the first article that has an article number greater than its number of citations. The h-index can then be derived by taking the article number of the entry above the identified article. For example, a search for the term "machine learning" has an h-index of 367 on Scopus.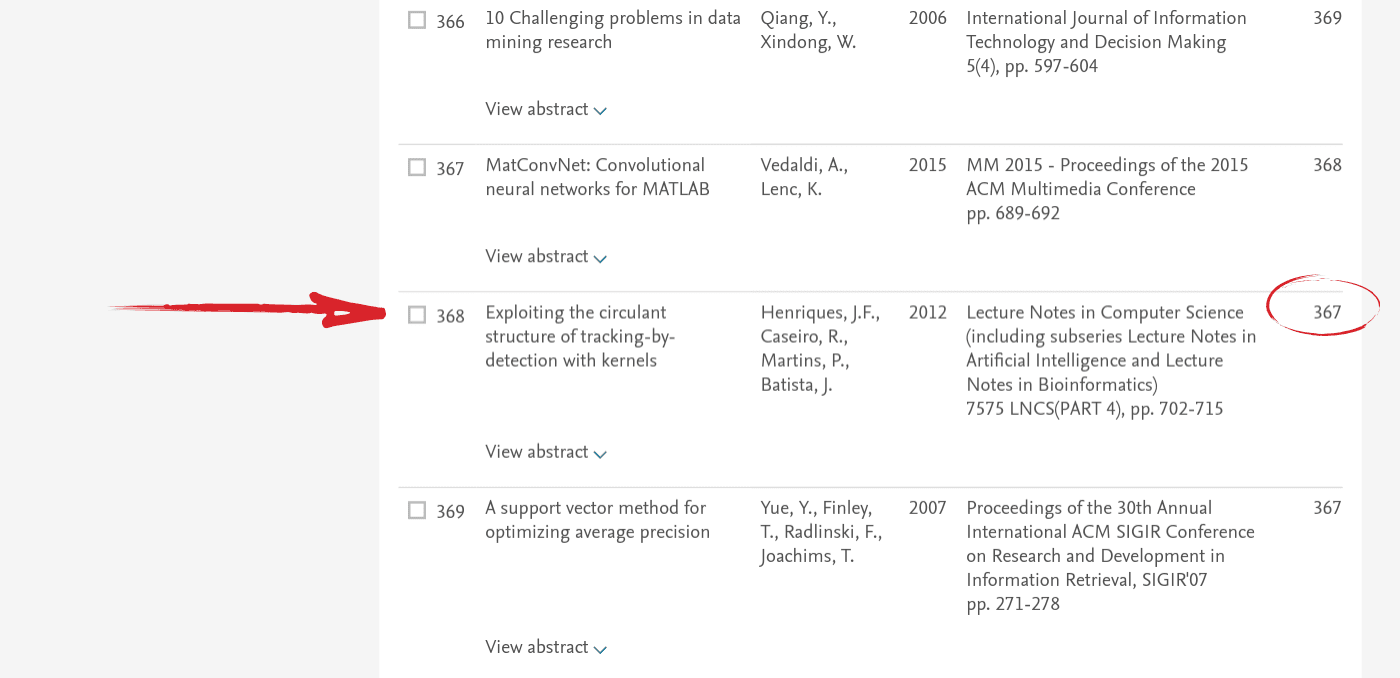 Frequently Asked Questions about using Scopus to calculate your h-index
How is an h-index described?

An h-index is a rough summary measure of a researcher's productivity and impact. Productivity is quantified by the number of papers, and impact by the number of citations the researchers' publications have received.
How do I calculate my h-index on Google Scholar?

Google Scholar can automatically calculate your h-index, read our guide How to calculate your h-index on Google Scholar for further instructions.
How do I calculate my h-index using Web of Science?

Web of Science is a database that has compiled millions of articles and citations. This data can be used to calculate all sorts of bibliographic metrics including an h-index. Read our guide How to use Web of Science to calculate your h-index for further instructions.
Why should I care about an h-index?

The h-index is not something that needs to be calculated on a daily basis, but it's good to know where you are for several reasons. First, climbing the h-index ladder is something worth celebrating. But more importantly, the h-index is one of the measures funding agencies or the university's hiring committee calculate when you apply for a grant or a position. Given the often huge number of applications, the h-index is calculated in order to rank candidates and apply a pre-filter.
Is calculating my h-index on Scopus free?

Yes, you can access the free version of Scopus to calculate your h-index.
Related Articles